Main Content
Best Hands-on Jobs in Lancaster for You to Explore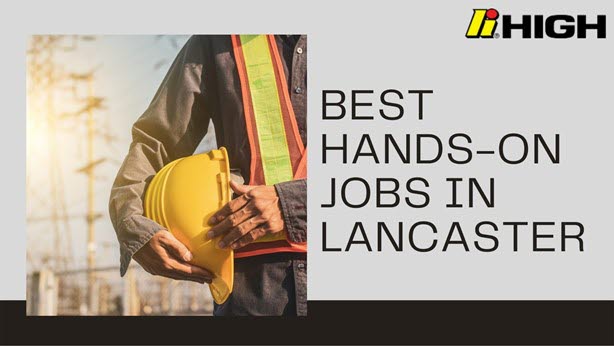 Do you love working with your hands? Do you find building and fixing things with your hands intellectually stimulating and fun? With us, you'll be able to choose the hands-on career of your dreams, feel engaged and accomplished and earn a great salary. If you have been paying attention to the news, you probably know that there is a huge labor shortage in trade industries. Thus, there is no better time than right now to apply for a hands-on job that provides good financial security and professional growth.
Reasons to Choose a Hands-on Career
There are infinite reasons to choose a hands-on career but for the sake of brevity, we're going to talk about the most crucial. Most trades don't require a four-year degree for you to earn a nice income, have comprehensive health benefits, and other great perks. If you're a college graduate then coupling your theoretical knowledge with practical experience can be a key differentiating factor for your successful career path. In such a competitive job market, employers are looking for people with hands-on experience and hard skills that satisfy specific job needs and can also be applicable to other industries.
At High, we offer an environment that is set up for your success regardless of what trade you're interested in. While traditional learning experiences are the bedrock of an effective transition into the workforce, we believe that our co-workers are more engaged, happy, and productive when they are actively using their hands. We provide quality training that helps build confidence and aids in information retention. We've developed a comfortable and approachable environment that allows for personal interaction and higher efficiency.
Our employees are skilled in their craft because they've practiced procedural mastery. With practical experience, they have the time and space to think through actions and receive live feedback from team members on the job site. Co-workers have overcome work challenges through robust teamwork and assessment of the problem in real-time. Our businesses have also greatly diversified the recruitment process to hire more female workers. Our female coworkers in construction and welding at the High Industries are indispensable sources of knowledge, technical skill, and attention to detail.
Most people don't give much thought to the benefits of welding, precast concrete or steel in our lives. Welding is a challenging trade, welders find the process of creating a weld to form an important component gratifying. These parts can be used to erect large structures and buildings, which are a significant aspect of our lives. The same can be said about precast concrete laborers when they fabricate precast systems and solutions for corporate buildings, educational institutions, and healthcare facilities. Steel, on the other hand, is a goldmine for essentially every business, making steel fabricators extremely valuable workers. These hands-on jobs require skill but practice and effort are the most important part.
In recent years, manual competence is greatly devalued, and that's why most people turn to jobs that can sometimes feel empty and unfulfilling. Hands-on jobs allow you to get your hands dirty, think differently about life, and better assess success and failure criteria. Manual competence gives you a sense of autonomy, makes you feel better, and gives you a larger feeling of responsibility for your work.
Best Hands-on Jobs at the High Companies
Construction Laborer
High Concrete Group LLC is known for valuing its co-workers and focusing on innovation, proven technology, first-rate service, and technical support. Production laborers handle the setup, stripping, and pouring on concrete to build parking garages, sports complexes, and retail buildings. Typically, other important responsibilities include pulling pieces out of concrete molds, utilizing overhead cranes to lift precast building components, and cleaning and repairing products before secondary finishing operations.
To join us as a construction laborer, you'll only need a high school diploma, good math, and measurement skills, familiarity with blueprints, and some prior concrete or construction experience.
Material Handler
If you thrive working in a fast-paced environment, then a career as a material handler in manufacturing is a great choice for you. You will be responsible for ensuring proper and safe handling of products from the production areas to yard storage and then onto trailers for shipment to job sites. Being flexible to work outdoors and confident to climb ladders are also requirements of this hands-on job.
If you have previous experience in precast or prestressed concrete and construction, then this position is perfect for you. Your general duties will include assisting equipment operators in loading and unloading and verifying that equipment is secure for movement in plants. A college degree is not required for this position but basic math and measurement skills are helpful.
Maintenance Mechanic
This position is an excellent opportunity for those interested in performing mechanical and electrical duties. Machine installation, repairs, and troubleshooting are the main duties maintenance mechanics perform daily. Coveted team members are usually expected to have two years of industrial maintenance experience, great troubleshooting and repair skills, some welding experience, and knowledge of hydraulics and pneumatics.
Welder/Fabricator
As a welder/fabricator you'll be using tools with intense heat to assemble and fabricate structural steel units. Primarily, you'll be working on bridges and assisting with fitting, layout, and grinding. To demonstrate technical aptitude, you will be required to pass a welding certification test. We usually look for individuals who are able to work from prints and specification tables.
Where to Find Hands-on Jobs?
Are you struggling to find hands-on jobs that fit your background and needs? You should be tapping into several resources to find the top-paying hands-on jobs in Lancaster. Try contacting companies that you are interested in working with and check their websites for relevant job postings. Don't limit your search only to popular job listings! The best hands-on jobs in Pennsylvania are just a call and click away!