Main Content
Why Is It the Right Time to Switch to a Career In Welding?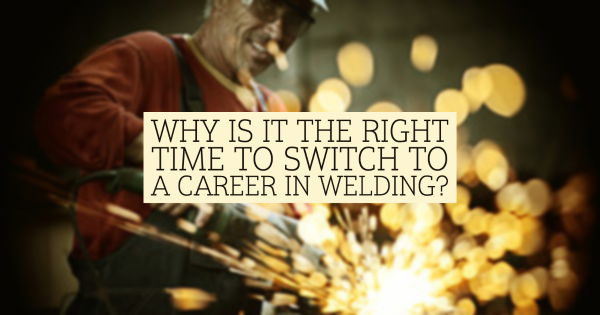 When it comes to careers, timing is everything. Staying up to date on which positions are in growing demand and provide advantageous career opportunities will ensure you make the best selection possible for your personal and professional wellbeing. While it is not advisable to rush a career change, you must not put it off any longer than necessary. That being said, if you are looking for a career change and you love working with metal, welding jobs would be a good idea right now because the industry outlook seems very promising. Read on to find out why.
Growing Demand
Nowadays, very few people are interested in becoming craft professionals. As a result, it is expected that there will be a significant labor shortage shortly. So when you are thinking of switching to a welding career, it's good to know that the demand is not only high now, but it is also expected to increase with time. There is no better time to become a welder than right now, since America's welding industry is growing with the increased necessity for new infrastructure, construction, and engineering projects.
Most interview processes last for about 23 days on average. However, for welders, these times are becoming shorter due to the increase in demand. All you need is to prepare your resume and cover letters and look for local jobs available online. However, before you apply, you must consider that welding is a craft revolving around exceptional hands-on capabilities, creativity, patience to learn, listen and observe your surroundings. If you are up for a career that is challenging, built on teamwork, and never repetitive, then the welding industry will open up many doors for you.
Excellent Salary Potential
Welders are in high demand right now. Therefore, a job in this field will pay quite handsomely. Apart from the comfortable salary, you can also expect a job with good pay and benefits like health care and retirement either from your employer or a union. Employers in construction or engineering are looking for passionate and energetic students, high-school or college graduates, who demonstrate a unique bundle of skillsets and a great understanding of the welding industry. Those who show the desire to enhance their skills, are committed to company-wide goals, and want to contribute to impactful community projects will inevitably gain the trust of their employers and earn more.
However, just like with any other career, you'll start with an entry-level position. The good thing is if you work hard and produce high-quality results, you will most certainly work your way up the ladder quickly. At High Steel, you will receive a $60,000 annual salary to start ($20/hour starting wage) for 1st and 3rd shifts with a 25% base salary shift differential.
Welding is also a great career option for women, who tend to outperform men in following processes, guidelines, and safety procedures. While the percentage of women in the construction and welding industry remains low, construction and engineering companies are constantly looking to bridge the labor gap by recruiting talented and visionary women and promoting them to leadership roles. Despite the slow growth, women continue to build their path in the welding and construction industry by attending robust training programs and engaging with a multitude of resources.
Short, Cost-Efficient Training
This is another great advantage when you want to get into welding. Most people who are looking to switch careers have full-time jobs and serious responsibilities. Therefore, it wouldn't be practical to quit your job and stop earning for a while. Fortunately, with welding, you can manage to do your training around your busy schedule, even if that means starting from the bottom.
In a short time, you can finish the program and start working right away. To earn a welding certificate, you only need about a year in technical school. Once you are done, all that's left is to submit a few applications and cover letters, and you will have a job in no time. You can also get into a welding apprenticeship program, which is even more rewarding. Remember that your success in this field depends on your willingness to learn and master the craft of welding, acquire the right competencies and skills and demonstrate commitment to complete projects swiftly, and cooperate with others.
A career in welding comes with a lot of diversity, which is essential to keep work-life interesting. If you consider all of the above points, you can safely conclude that welding is a fun and rewarding career. After completing training, get started on crafting your resume and filling out applications, and soon enough you'll be an employed welder at a reputable company.