Main Content
New Tappan Zee bridge: The Largest Transportation Design-Build Project in U.S.

New Tappan Zee Bridge Project: Rebuilding America's Infrastructure
The Mario M. Cuomo Bridge, at 3.1 miles long, is a twin-span, cable-stayed replacement for the old Tappan Zee Bridge, crossing the Hudson River about 25 miles north of New York City. Its eight lanes carry the New York State Thruway, Interstate 87, and Interstate 287 as well as bus lanes during rush hour. Its design includes a shared-use path for pedestrians and cyclists and for future light rail or commuter rail service.
The 50,000 tons of structural steel that High Steel Structures LLC fabricated support the road deck and infrastructure for the east and west approach spans of the new Tappan Zee bridge.
Headquartered in Lancaster, Pa., High Steel partnered with Hirschfeld Industries, with headquarters in San Angelo, Texas, to deliver the 100,000 tons of fabricated steel required.

Innovative Success Factors of Mario Cuomo Bridge Construction
Given its huge size, scope, and cost, the Tappan Zee Bridge replacement project had to bring together the most capable and dependable large-capacity companies in the bridge construction industry.
High Steel's innovative success factors included:
An $11 million expansion of our Williamsport facility with 200 additional positions

Retooling to fabricate the outsized bridge-span components

Purpose-designed production methods to increase efficiency and maintain schedules

Recoded in-house software to meet outsized-girder specifications

New rapid digital radiography method that X-rays steel thickness (for quality control) in 12 seconds instead of up to an hour

Advanced-technology equipment—exclusive to High Steel in the U.S.—that drills bolt holes in steel parts at the top and sides simultaneously
As the national winner of the AISC 2020 Prize Bridge Awards,the Tappan Zee was featured in the History Channel's "Project Impossible" series.
At $3.98 billion, Mario Cuomo bridge construction is the largest transportation design-build project in the nation. Kindly refer to the below infographic for more highlights from one of the biggest infrastructure projects implemented by High since its founding in 1931: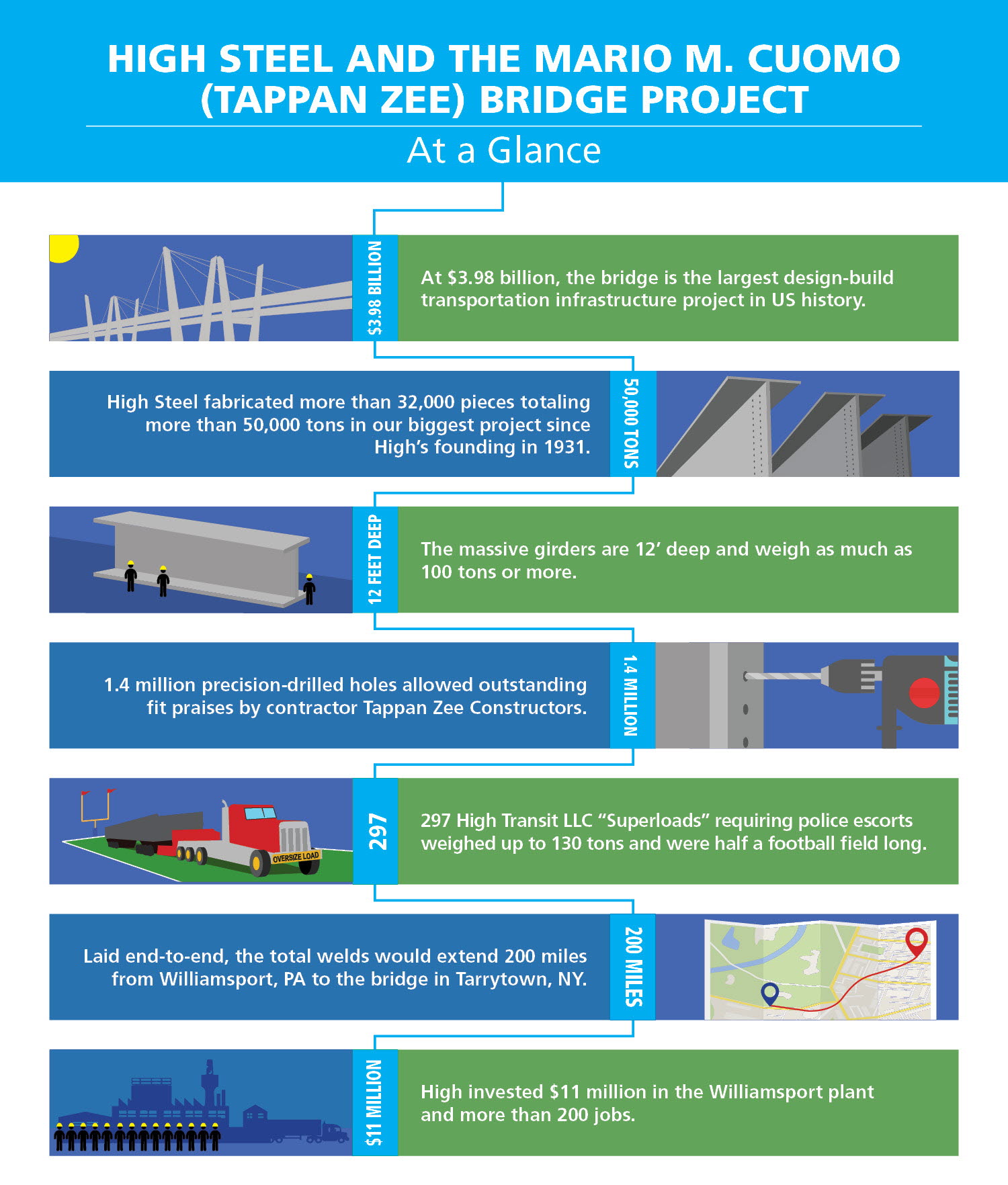 High Steel – a Key Contributor to the New Tappan Zee Bridge Construction
At a Glance:
High Steel was one of only a few U.S. companies able to meet this project's enormous demand for fabricated steel

High Steel constructed nearly 800 girders, most weighing more than 100,000 pounds and 12 feet in depth

High Steel and High Transit met all contract commitments, with no major delays or problems

Designed and constructed to last 100 years without major structural maintenance

National Winner of the AISC 2020 Prize Bridge Awards
>>> Read more: High Structural Erectors Builds Bridges for Maryland's Purple Line Light Rail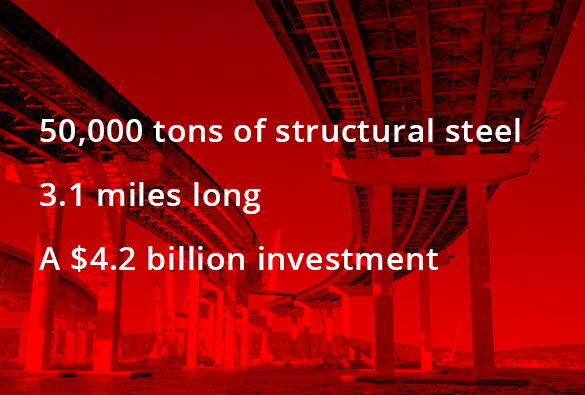 Mario Cuomo Bridge Facts
Former name

Tappan Zee Bridge

New official name

Governor Mario M. Cuomo Bridge

Also known as

New Tappan Zee Bridge


New NY Bridge

Meaning of official name

To commemorate former New York Governor Mario Cuomo

Location

Connecting Rockland Westchester Counties

Construction period

2013 – 2018

Cost of construction

$3.9 billion (New Tappan Zee Bridge replacement is the largest transportation design-build project in US history)

Total length

3.1 miles (5 km)

Height

419 ft (128 m)

Toll fee

Cars: $7.48 Tolls-by-Mail

NY E-ZPass: $5.75 (eastbound/southbound only)

Commercial vehicles pay variable toll based on their class and time of day (cashless toll)

Most-updated toll adjustment can be found on the Thruway Authority's website.

Number of lanes

8 automobile lanes

2 bus lanes

2 pedestrian/bicycle lanes
FAQs about New Tappan Zee Bridge Project
Question 1: Why did the Tappan Zee Bridge need to be replaced?
Evidence had shown that in the case of Tappan Zee bridge, replacement rather than repair would be more cost-effective and safer for drivers, not to mention better for the environment. Much of the old bridge was reused or recycled for other infrastructure projects.
Question 2: What is the contract method of the new Tappan Zee Bridge construction?
The new Tappan Zee bridge project followed design-build delivery method. Under a design-build project, also known as a single-source project, a client signs a contract with one company to manage the design to the construction of the new property. This means more convenience and less risk for owner since they don't have to manage multiple parties and the budget.
Question 3: What is the Mario Cuomo bridge made of?
The Mario Cuomo bridge is made of structural steel fabricated by High Steel Structures LLC. High Steel partnered with Hirschfeld Industries to deliver the 100,000 tons of steel required for this bridge building project.
Question 4: What kind of bridge is the Mario Cuomo bridge?
The Mario Cuomo is a twin cable-stayed bridge spanning the Hudson River between Tarrytown and Nyack in New York.
Question 5: Why is the Tappan Zee Bridge curved?
The bridge incorporated an S-curve alignment to avoid Port Authority territory.