Main Content
Tips and Advice When Applying for Welding Jobs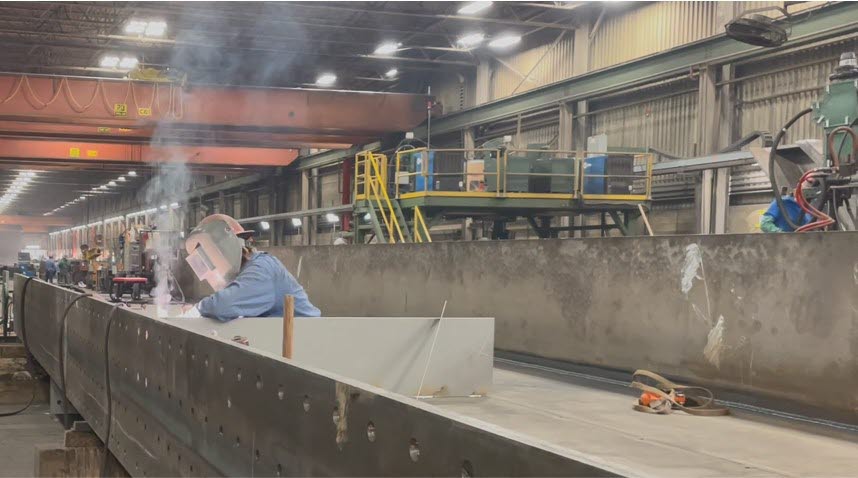 Why Is Welding an in-Demand Career Field?
The future of welding seems brighter than ever with the aging infrastructure in the United States. As manufacturing projects become more vital for the nation's economy, skilled welders will be more coveted than ever before. The number of welding jobs continues to increase year-over-year, and as more welders retire, the shortage of young qualified welders will be substantial.
The American Welding Society reported that there will be a deficit of 300,000 welders until 2024. This trend along with the lack of relevant welding skills and experience makes the demand for welders even more pressing. Fewer students are interested in pursuing skilled trades due to people leaving the industry or advancing to other positions. However, welding is a very rewarding and sustainable profession that can lead to numerous advancement opportunities.
The need for reconstructing the nation's roads, highways, bridges, structural steel units, and buildings makes a job in skilled trades ideal for those who combine great physical strength, basic math skills, and maintenance and repair capabilities. From a financial standpoint, the wage of an entry-level welding position is above the national average, offering great benefits and growth opportunities.
Who Should Apply, and What Are the Primary Qualifications for This Job?
As a welder, you will have the opportunity to be employed in various industries, including steel, construction, aerospace, and the military. To obtain the basic welding skills, you would probably need to attend an apprenticeship program or earn a bachelor's degree in welding or engineering. Some employers offer on-the-job training, so in that case, a high school diploma might suffice, but passing a welding test could be a priority to land the job. Most companies require a proven record of strong technical knowledge and the ability to work in a team environment.
Typically, manual dexterity, excellent hand-eye coordination, and good problem-solving skills are the first qualifications hiring managers expect you to bring to the table. An on-site assessment of your efficiency and agility will usually take place before you are hired. The willingness to relocate, learn about the latest welding technology, and strictly adhere to safety protocols are all factors you should consider before applying for a welding position.
If you've received specialized training at a high school, technical or vocational school, or community college, you will be delighted to find out that there are many open positions available for you.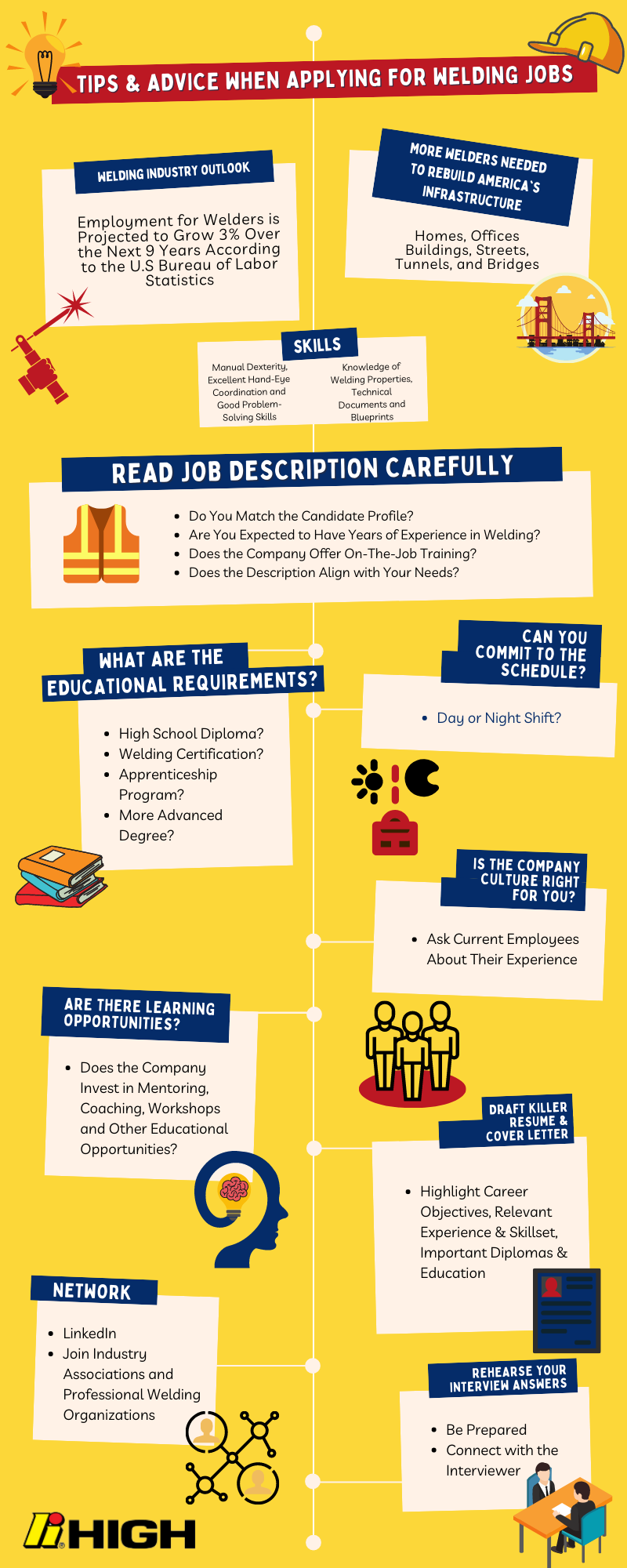 Tips for Applying for the Right Welder Job
When applying for a welding position, the first step to consider is to read the job description carefully and ensure you bring to the table exactly what employers are searching for. Are they expecting you to have years of experience in the field? In that case, you will be asked to accurately illustrate how you've successfully completed a project and explain how you've applied mathematical or analytical skills to reach the desired result. You must also be willing to elaborate on the materials, metals, and equipment used in the project and how you've managed to read blueprints and implement repairs or other maintenance requirements.
Another question to ask yourself is whether employers require a high school diploma, a welder's certification, or a more advanced bachelor's degree. The exact educational requirements vary depending on the industry you choose to work in. Generally, employers prefer applicants with a welding certification and favor those with on-the-job experience. In fact, some companies might require more welding certifications as your career progresses.
Furthermore, as a welder, you should be flexible enough and eager to commit to the employer's desired schedule. Job postings specify whether the welder is needed for day or night shifts. If the employer has issued a job posting for a night shift welder, you should know that such welders work in areas that operate 24/7 and need emergency repairs in large plants or factories. Relevant industry experience and a welding certification are usually the main qualifications expected. Attention to detail and the ability to manage your sleeping schedule are also some other factors that come into play.
It's highly possible that you might land the job with a high school diploma if you demonstrate the willingness to learn and adapt to the demanding work environment. However, your employer may ask you to attend an apprenticeship program to enhance your welding skills. Agreeing to commit to a full-time working schedule and finding time to dedicate to learning and additional hands-on training can be daunting. Whilst this commitment might be difficult in the beginning, the benefits in the long term will be great for your professional advancement.
Finding the perfect welding job doesn't just depend on the employer's requirements. You need to be sure that the job aligns with your needs and career aspirations.
With extensive research, you must first find out if the company's culture is right for you. While it's hard to determine the company's cultural fit just from its online profile, you could get additional insight into the organizational culture by approaching your prospective colleagues. Welding companies employ many individuals who were in your position and there is no better way to understand how a company operates than from the people striving for its success. You can even ask if you can spend a couple of hours with them and gauge how they interact, brainstorm and perform.
Secondly, you should assess if compensation and benefits are in line with your current needs. There is always room for negotiation if the employer determines that you're suitable for the position. Be transparent about your financial situation and your employer will be willing to provide a better offer.
Next, you should consider if the company has the resources in place to invest in your personal and professional growth with additional training and to support you along that process with financial incentives. Some employers have the systems in place to offer an ongoing learning experience in various fields. If you're looking to invest time in mentoring programs, training courses, and workshops, then you should ensure the company has all these options available.
Your entire application process is the cornerstone of your job search, so preparing a killer resume and cover letter will go a long way and make your profile stand out from the crowd. You should highlight your biggest career objectives, relevant experience and skillset, important diplomas and education, and other unique qualities that accentuate your worth. Another helpful tip is to include important terms and keywords that show your expertise in the welding industry.
Lastly, you should always leverage relevant job listings and job boards. As already mentioned, welding is one of the fastest-growing professions in the United States, so there is no shortage of available positions! Joining industry associations and other professional welding organizations is also a great networking opportunity. Online networking through LinkedIn and other professional platforms is also valuable for quickly getting your foot in the door. Always remember to rehearse your interview answers to be more confident and make sure you look professional and neat when your time to shine comes.