Main Content
Finding the Perfect Welding Job After Technical School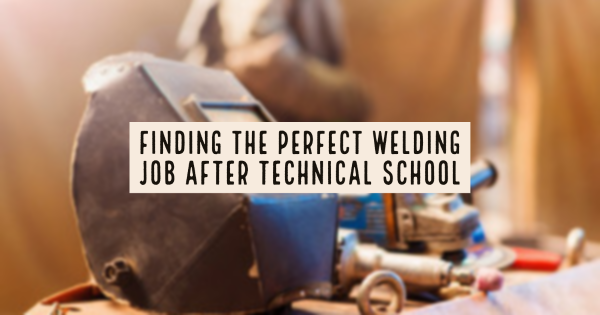 While there might be a shortage of skilled welders, you still need to put some effort into finding the perfect job after technical school. You need a job that pays well with a good working environment as well. The education and hands-on training you received from your welding training program will set you off on an exciting career path if you follow the right steps. Let's look at how you can land the perfect welding job.
Know What Employers Are Looking For
Even if you have the technical welding qualifications, you still need to understand what employers look for in a potential candidate. Consider your core strengths and what differentiates you from other candidates. Employers generally look for the following two things when checking out a candidate:
Understanding of basic welding techniques, tasks, and tools. As a welder you will be working in different settings and environments and be tasked with handling various materials and equipment. Moreover, you will be expected to perform fitting, layout, finishing, grinding, and related operations to assemble and fabricate structural steel units.
Your ability to excel in a hands-on test to display your skills. Such tests assess your knowledge of welding processes and safety protocols. Many employers require welding certification tests to determine if recently hired individuals are indeed qualified enough to complete demanding projects and withstand tough conditions. With a welding test, you also have higher chances to get promoted and earn more.
When employers are looking for a welder, they will present you with a test, and you must pass the test convincingly for you to land the job. This is how you can prove your welding skills. Before you go and attempt the test, take time to find out what the company does and why they need a welder. That way, you can better prepare yourself for the test.
Draft a Killer Resume
It's essential when you are looking for a welding job to prepare a good resume. Ideally, your resume should show all your strengths and why you will be the right person for the job you will be applying for. Include your highest level of education, the type of training you received, the certificates you have, and relevant work experience. If possible, include pictures showing projects you have accomplished during school training.
If you cannot come up with a resume on your own, look for a professional resume writer or get assistance from an employment agency that offers such services. While such services provide great assistance in perfecting your resume, your opportunity to shine is grounded on your ability to fully represent your welding skills and personality during the interview. Effective preparation is the key to nailing the interview and overcoming anxiety. Additionally, hiring managers appreciate professionalism, confidence, and honesty during the interview.
Join Professional Welding Associations and Societies
There are a lot of associations that are created specifically for welders. You can find these locally or even online on social media. Sometimes employers will go through these associations when they are looking for welders to employ. Therefore, joining these associations will increase your chances of landing the job that you want.
Apply for Welding Jobs
While you may find some job openings online, understand that 80% of job openings are not posted online. Some employers might not use the web when looking for qualified candidates. Therefore, it helps to expand your search and look in newspapers and local job boards. Also, visit local employers directly and leave your resume there.
Another great idea would be to contact technical colleges that offer welding training courses and ask if they work with local employers. You never know what you might find.
Turn to these tips as you search for the perfect welding job after technical school. Find opportunities to make yourself stand out so you can obtain the welding position of your dreams!