Main Content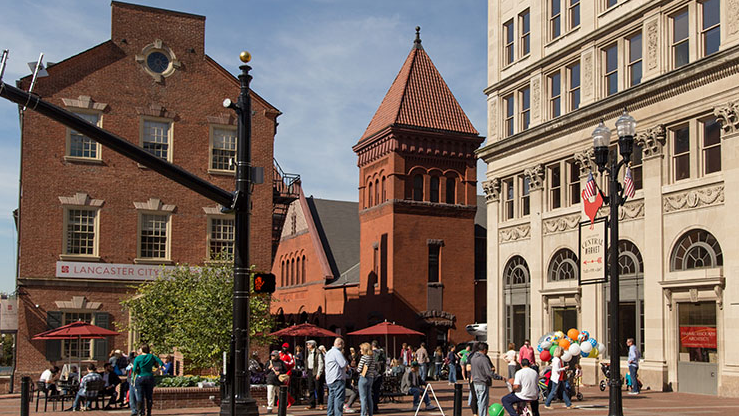 Advantages of Living in a Small City
Though living in a big city with its bustling culture and nightlife can be attractive, it comes with drawbacks that can prove to be too much for some people. While it may be crowded, it can feel isolating. Higher costs of living, crime, traffic, and pollution are some of the reasons that can dissuade someone from moving to a big city in the first place. For many with families, they can be strong incentives to leave.
The close-knit community of a small city, on the other hand, offers a chance to pursue your career, embrace financial stability, interact with your neighbors amid beautiful natural scenery, and most importantly, establish a larger sense of personal security. Living in a less population-dense area exposes you to lower prices for homes, groceries, consumer goods and services, and lower taxes. For families, the advantages are even more compelling. More and more people under the age of 40 are favoring the simplicity of a small-city lifestyle, especially since the onset of the pandemic.
Living a Happy Life in Lancaster
As a small city of great historical significance, Lancaster makes an excellent option for families and individuals who want a lower cost of living together with serenity, security, and beautiful natural surroundings. Voted one of the safest places to live, Lancaster combines a busy downtown with a strong agricultural tradition, reflected in many farm-to-table artisanal dining experiences offering cuisines from around the globe.
Add to that an authentic cultural experience. Central Market, the oldest, continuously running public farmers' market in the country is a testament to the area's ethnic diversity. The city's First Friday brings the streets alive with culturally infused exhibitions, engaging performances, and Pennsylvania craft brews. Recently named America's fourth most walkable city, Lancaster offers tree-lined streets, boutique clothing and antique shops, and distinctive architecture.
Surrounding the city are the Amish community, rolling farmland, and quaint towns of Lancaster County, Pennsylvania's fourth fastest-growing county by population with proximity to Baltimore, Philadelphia, Washington, D.C., and New York. Lancaster County is renowned for its affordability, outstanding health care, and a great variety of things to see and do. All year round, a diverse range of activities and attractions bring people together and make Lancaster a unique destination for visitors from throughout the mid-Atlantic and beyond.
There are plenty of full-time job opportunities available in Lancaster, and most of them are intertwined with community commitment, attention to wellbeing, and continuing education and skill development. At the High companies, we have big visions and ideas and chase them with a local mindset, valuing our co-workers and their needs and energizing them with participative management. We follow our employees' pathway to success every step of the way, starting with the recruitment process and moving forward with their continuous development both personally and professionally.
Working for an Employer That Opens Doors to Exciting Opportunities
Corporate giving and donation of talent, time, and generosity are all part of our enduring reputation as one of the best companies in Lancaster. Through our charitable organization, the High Foundation, we've been spearheading systemic change in our community, by supporting projects that focus on diversity, equality, elimination of poverty, environmental sustainability, and many other critical initiatives. Revitalizing every part of our community and helping those in need support a sustainable economy, emphasize the importance of equality and dignity across all our business units and practices and lead the way towards a more socially responsible and environmentally conscious world.
The High companies fund more than 20 nonprofit organizations, and more than 134 High managers are in boards and service positions. Our financial and volunteering commitment to United Way of Lancaster County goes back many years and continues to provide relief to disadvantaged communities. Together with like-minded business and civic leaders, we are helping to solve community problems and set the course for a vibrant future.
High encourages rational exploration of STEM careers by young people. One example is High Steel Structures LLC's ongoing support of the Lancaster Science Factory, which features interactive exhibits, mini-labs, workstations that are fun, engaging, educational, and memorable. From our "Bridgemania" summer camp geared towards children in grades 4-8 to our highly interactive welding workshops, younger generations have the opportunity to learn construction and welding concepts and skills at an earlier stage in their lives.
We also partner with technical educators who match their course requirements to business needs. Thaddeus Stevens College of Technology provides resources, teaching services, and additional support for a well-rounded two-year education that guarantees a fulfilling career for disadvantaged students. High has helped the college grow, expand curricula in demanding fields such as welding, drafting, and carpentry, and build a resilient workforce in South Central Pennsylvania, filled with young and bright professionals.
Find a Job That Serves a Purpose
Working in a place like Lancaster grants you the gift of financial stability, historical and cultural exploration, and most importantly, being part of a community that cares and gives generously. Joining High will enable you to become an active participant in the Lancaster community, to get your hands on impactful projects, drive innovation, and build a better tomorrow.