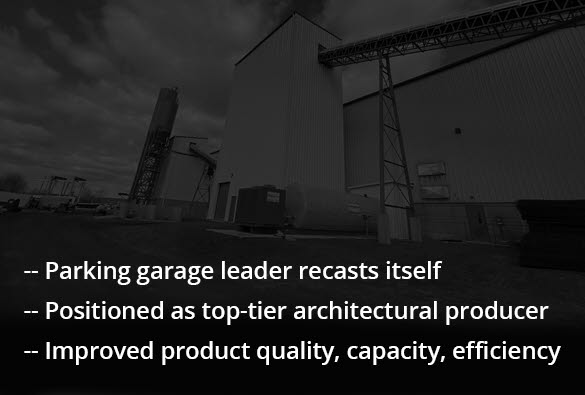 High Concrete Group Targets Architectural Precast Markets
At A Glance
$8 million in new equipment, processes, and construction
Transformation of plant and 148-acre campus
Improvements to product quality and efficiency that also help the environment
50 to 70 future jobs
"This strategic initiative will bring increased capacity and efficiencies that enable us to serve more customers better. And it signals our commitment to invest in technology that keeps High at the forefront of innovation in the precast market." - J. Seroky, President, High Concrete Group LLC
A New Emphasis on Architectural
In producing the iconic Statue of Liberty Museum and the signature "shock wave" ribbon-like exterior façade of 1200 Intrepid in Philadelphia, High Concrete burnished its well-established credentials in bringing beautiful buildings to life with architectural precast. Now the company has cemented its future in the medium by completing an $8 million transformation of its Denver, Pa. manufacturing facilities.
Architectural precast concrete is used to form the walls and cladding that make up the façades of buildings. Architects choose the material for its ability to take on nearly any shape or form while presenting an upscale, custom image with aesthetics that only concrete can achieve. According to the company's extensive market research, more and more architects are expected to design their buildings with it in the years ahead.
So High Concrete, long regarded as a leader in structural precast and parking garages, decided to shift emphasis and place a strategic focus on architectural precast in order to grow its business.
To make that happen, the company spent two years planning improvements to its PCI-certified facilities. Leaders and co-workers traveled extensively throughout the United States and Europe to find and bring back best practices. Processes and procedures were scrutinized, with each step carefully evaluated for what worked well and what could be improved. Following all the homework, the company embarked on a three-phase project that transformed the 148-acre campus.
In the first phase, the company constructed a new structural batch plant for the smaller production building. A four-cubic-yard mixer delivers concrete into front discharge mixer trucks for placement in the forms within the building. The structure allows for a potential bullet delivery system to be installed in the building.
In the second phase, the batch plant in the large production building was rebuilt with planetary mixers which allow for a high degree of control of product quality particularly when creating highly customized mix designs for architectural elements. The mixers dispense the concrete into buckets from inside the building for transferral to the forms by overhead crane.
For the third and final phase, High Concrete completed a facility switch between the former structural and architectural operations footprints. The move placed architectural and structural forms in the respective facilities, and consolidated mold shop and cage fabrication under one roof with architectural production, allowing more space to support growth.
During the project, functional changes improved the plant's environmental footprint. To reduce carbon emissions, the new configuration reduced the number of touches and movement of product, and overhead cranes replaced mixer trucks. The new processes use less water, a dedicated water treatment facility removes contaminants from washout water, and new stormwater management and retention protects local waterways. Co-workers benefit from a more stable and efficient work environment with all activities completely indoors.
Improved architectural precast product quality and capacity positions High Concrete to compete in new markets. The manufacturing revitalization supports a new product, ThinCast®, the thinnest precast rainscreen on the market.
And the structural business continues stronger than ever. High Concrete completed the project during its largest contract to date, the Newark Liberty International Airport Consolidated Rental Car (ConRAC) Facility. Meanwhile, the transformation could add as much as $50 million per year in new tax revenue to Lancaster County and could employ as many as 50 to 70 more co-workers when the new capacity is fully utilized.
JOIN HIGH CONCRETE GROUP
We turn sand and stone into beautiful buildings that people rely on. If you would like to be part of our team, take the next step, and apply today.
Apply Now
Strategic Realignment
High Concrete swapped its headquarters campus production facilities, placing architectural operations in the larger of the two. The firm extensively modified its batch plant, installing planetary mixers for superior color match and consistency, and constructed a new batch plant for structural concrete.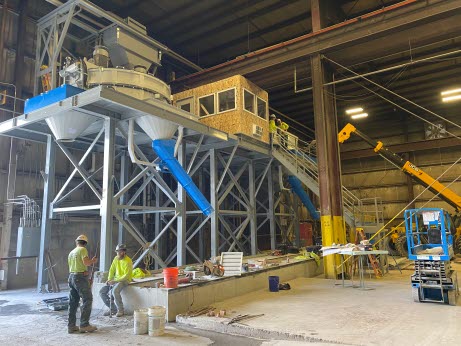 Planetary mixers are installed in the East Building, the new home of High Concrete's architectural precast operations.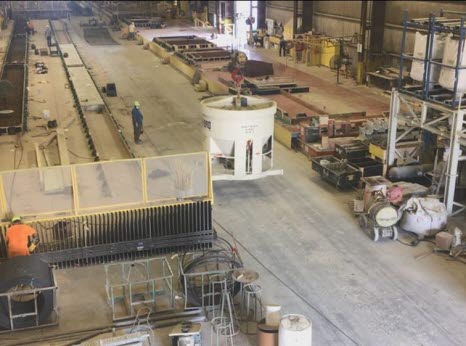 A crane operator transfers a bucket of architectural concrete from a mixer to a form. Cranes replaced mixer trucks in the East Building, reducing the company's carbon footprint.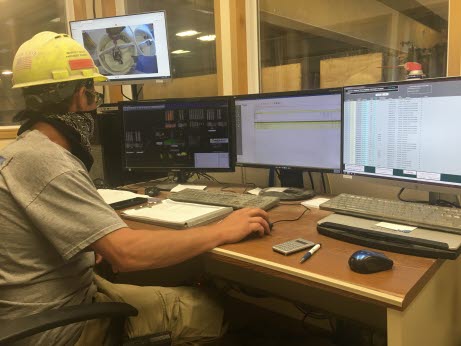 An operator oversees delivery of aggregates into one of the planetary mixers. High Concrete merged two belt lines to increase the number of aggregates available for architectural mixes.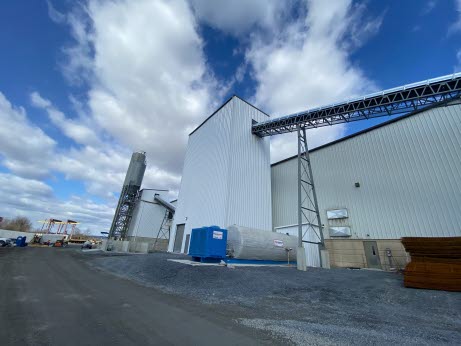 A new batch plant built for structural concrete went into service at the West Building where parking garage and other structural components are cast.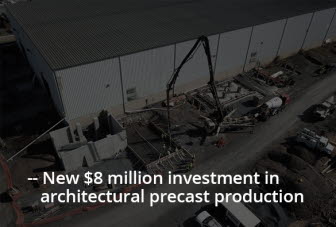 "The technology we are using for batching, mixing, and color systems is the best available in the world for architectural precast producers" - Sean Dixon, Vice President of Construction Services, High Concrete Group LLC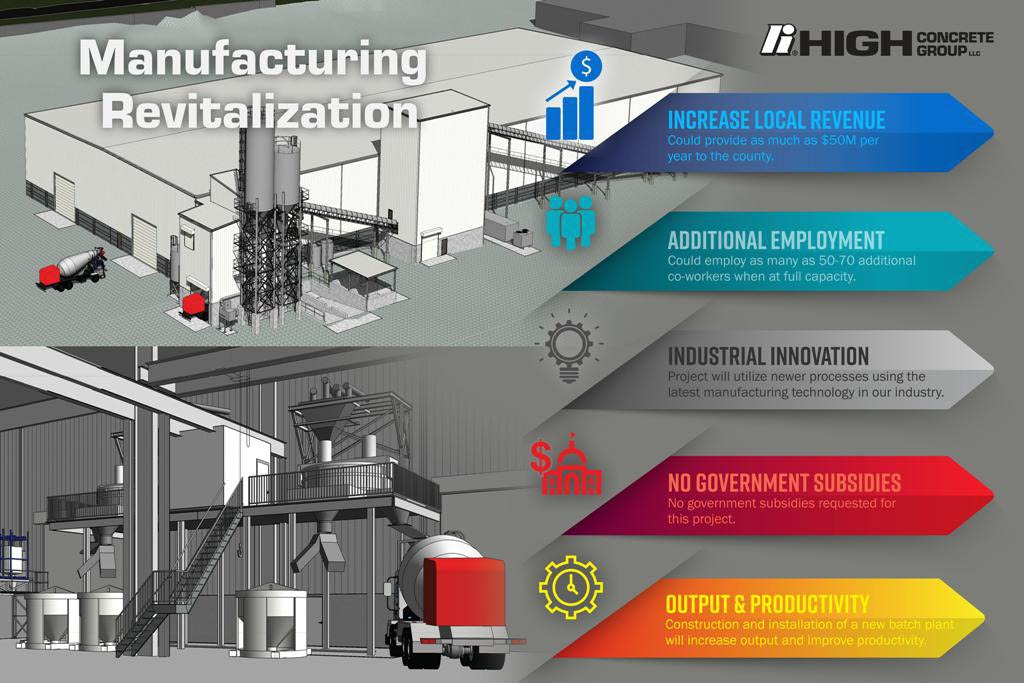 High has maintained an environment of innovation since its founding in 1931
At High, we are fortunate to work with a team of talented and engaged coworkers, as well as the very best customers, business partners, and community leaders throughout our many locations in the eastern and Midwestern United States.
While our headquarters and our organizational roots are planted firmly in Lancaster County, Pennsylvania—a vibrant and distinctively hardworking community that strongly influences who we are as a company—the values we espouse, including honest hard work, trustworthy relationship-building, and innovative leadership, are shared by all co-workers throughout our businesses.