Main Content
Why High Engineering Is an Amazing Professional Job Opportunity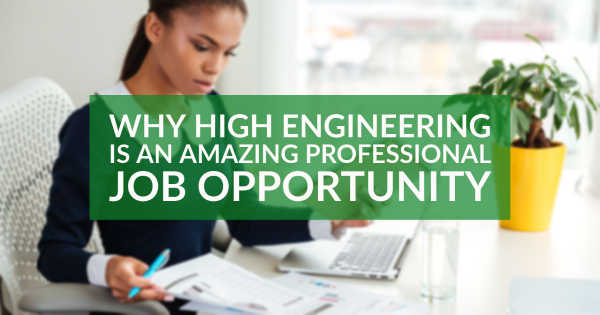 If you're looking for engineering work, look no further than High Companies. Here we offer professional jobs to civil and structural engineers looking for work in our various businesses, including High Steel Structures, High Concrete Group, High Structural Erectors, and more. Want to learn more about High Companies? Let's take a closer look.
Why People Like to Work for High Companies
High Industries offer varied work for engineers in several different fields of engineering. This means that potential employees aren't limited in terms of what they can accomplish. Along with being a leader in industry, High has a proud history of healthy environmental practices that are incorporated into robust training programs. This means that you will be working with a forward-thinking, family-owned company that prioritizes environmental health, sustainability, and safety compliance. We always want to keep the big picture in mind. All these efforts foster a work environment that you can be proud of during your career trajectory.
Recommendations on Applying for Jobs
By now, you may be wondering how to apply for professional jobs at High Companies. Typically, there are a few things to remember as you go about your job search for a new career. By following these guidelines and suggestions closely, you'll be well suited to know how to apply for a job and eventually receive an offer from High.

Develop a Strong Cover Letter. Cover letters are where you get the opportunity to show off who you are as a candidate. Yes, the resume is where you list your background, but the cover letter is how you explain why that experience they see on your resume matters. This is where you argue how that experience applies to the job you're applying for. Pay attention to the details here and avoid grammatical mistakes that could give a negative impression to the hiring manager. Moreover, if your cover letter is well-executed, it can become one of the best tools to land an interview.
Research the Company. It's important to research the company you're applying to and the specifics of the job you're aiming for. This will help you understand whether this is the ideal job and prepare for other important steps, such as the interview. By learning the company's mission and objectives, you can tailor your answers to fit the job description and its values. It will also better prepare you to ask strong interview questions. All of this will help you strengthen your knowledge about the company and have a better chance of landing the job after the interview process.
Pay Attention to Social Media. An impressive 92 percent of interviewers will look at your social media profiles to learn more about who you are as a person. LinkedIn, a social media site used by people posting and seeking professional jobs, is the place they'll start. Through LinkedIn, interviewers can get an idea of your professional experience and your interaction with other experts in the field. However, other platforms are also being searched by hiring managers and employers. Being proactive and ensuring that sites like Twitter and Instagram look polished and professional will definitely take you one step further.
Follow these tips, and you will be well-prepared to apply for an engineering job at High. To find a position at High Companies, visit our job application site or drop us a line.