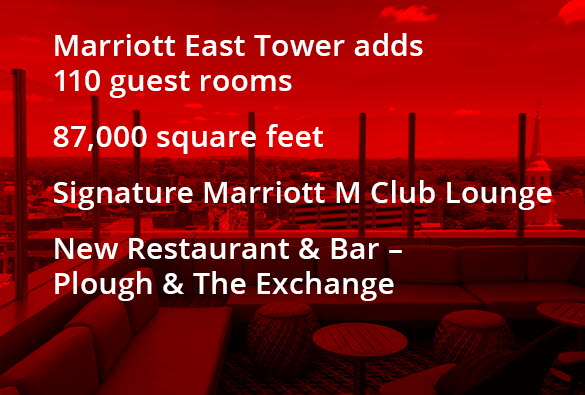 Lancaster Marriott at Penn Square and Lancaster County Convention Center
At a Glance:
A premier tourist destination in the heart of Pennsylvania
416 guest rooms combined and 50,000 square feet of exhibition space
Collaborative public-private partnership
ULI Philadelphia Award-winning design preserves city's culture, history, and smart growth
"This project gave others the confidence to make a significant investment in Lancaster City. It dared us to think big. And now, our hotel is recognized as one of the best in the Marriott chain. So, we can think bigger, and we can be bigger and bolder." - Mark Fitzgerald, President & COO, High Real Estate Group LLC
A DESTINATION BEFITTING LANCASTER'S PROUD HISTORY
Lancaster Marriott at Penn Square and the Lancaster County Convention Center perch like crown jewels at the heart of King and Queen Streets in historic downtown Lancaster, Pa. Envisioned 10 years ago as a magnet for tourism and a spark to ignite lagging business and job growth downtown, the Marriott and Lancaster Convention Center have delivered. They are the catalyst for more than $1 billion in regional economic development.
Lancaster, affectionately known as the Red Rose City, now vaults to the top of many U.S. travel destination lists for its combination of world-class, affordable accommodations, a thriving arts, culture and dining scene, and quaint charm — unmatched by many similar-sized American cities.
MARRYING SOPHISTICATION AND CHARM
To meet the rising demand for hotel rooms, the team, led by developer High Real Estate Group LLC, investor Penn Square Partners LLC, owner the Redevelopment Authority of the City of Lancaster, architect Cooper Carry Inc., and general contractor, High Construction Company, launched a $39.4 million expansion project. They adhered to Guiding Principles laid out a generation ago: Preserve the city's character, protect its historic sites and enliven its streetscape with smart growth and sustainability.
The new East Tower adds 87,000 square feet, 110 guest rooms with advanced amenities, 10 "City Suites," private event spaces with outdoor access, and a signature Marriott M Club Lounge. Lancaster City's culinary portfolio blossoms as well with the addition of Plough, a modern-American restaurant adjacent to the hotel and Convention Center, featuring farm-fresh, locally sourced menu offerings. And, soaring 12-stories from street level, The Exchange redefines the city's skyline while paying homage to its rich natural heritage with sharable-plate dining, panoramic rooftop city views, and cocktails infused with regionally grown ingredients.
Perhaps most striking is the realization that, if not for High companies, the transformation this project brought to Lancaster might never have happened.
Thinking about a career with High?
Take the next step:
DROP A BUSINESS CARD
CELEBRATE LANCASTER
Lancaster City's reputation as a go-to travel destination is surging with a bar and dining scene offering tastes to please every palate. Two new restaurants in the Marriott East Tower bring a contemporary flair to American cuisine with menu options that feature fresh ingredients from the region's many family farms.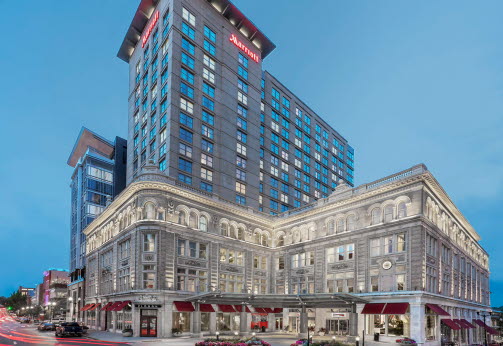 The renovated Lancaster Marriott at Penn Square, with the new East Tower at left, creates a stunning streetscape in Downtown Lancaster.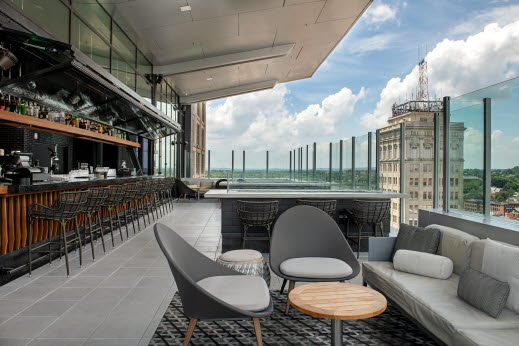 The Exchange, a unique rooftop bar on the 12th floor of the new East Tower, is a high-energy cocktail lounge offering small plates by critically acclaimed Chef Ryan McQuillan.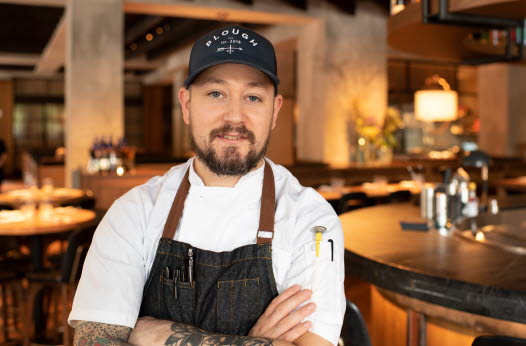 Executive Chef Ryan McQuillan oversees Plough, a modern American dining concept which takes Lancaster County's ingredients as inspiration for sophisticated, delectable, and focused dishes.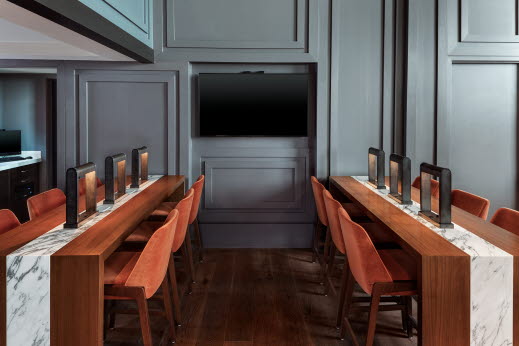 The state-of-the-art M-Club Lounge rewards members with 24/7 access to complimentary upgraded food choices, such as evening appetizers, Starbucks drip coffee, grab-and-go offerings and more, as well as complimentary Wi-Fi access, wireless printing and lounge furniture featuring built-in-charging stations.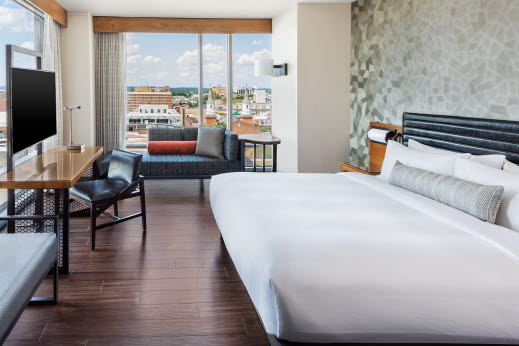 A deluxe corner king room invites guests to views of downtown Lancaster and offers luxury vinyl floors and high-thread-count linens.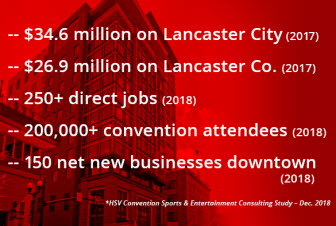 "We caught a wave—a wave of people wanting to be in the city. We provided a place to be, and that economic catalyst that occurred with the public and private investment was the spark that was needed." - Tom Smithgall, Senior Vice President - Development, High Real Estate Group LLC
A LONG-DELAYED DREAM REALIZED
Collaboration is the centerpiece of this successful development. After three decades of raised hopes, false starts and political inaction among city, county and state stakeholders, a team led by High companies Chair Emeritus S. Dale High broke the logjam. In 1999, High and two other civic leaders bought the historic former Watt and Shand Department Store with plans to build the convention center and hotel on the site.
They forged a highly successful public-private partnership that brought the project to life and opened its doors in 2009:
Lancaster County Convention Center Authority owns the Convention Center
Redevelopment Authority of the City of Lancaster owns the hotel tower
Penn Square Partners, a private sector investor, holds a master lease for the hotel tower
POLISHING LANCASTER'S GEMS
At its 10-year Anniversary, the Marriott and Lancaster Convention Center surpasses initial projections for revenue and usage, provides hundreds of family-sustaining jobs, and fosters business location to downtown.
Well-positioned to capitalize on market demand and competition, the Lancaster Convention Center's floor space can double to 100,000 square feet. The Marriott's recently beautified West Tower upgraded all guest room amenities to mirror those at the East Tower and transform key elements including the creation of a new Ambassador Suite on the 18th floor and replacement of 70 percent of the guest room bathtubs with showers.
Bolstered by its refurbished West and sparkling East Towers, the Marriott and Lancaster Convention Center celebrates a decade of excellence and beckons residents and visitors alike to discover their perfect getaway in the heart of historic downtown Lancaster.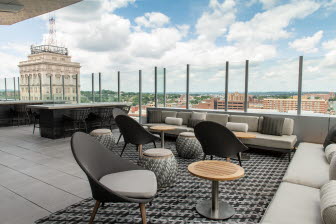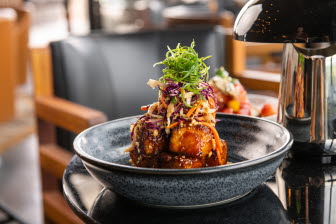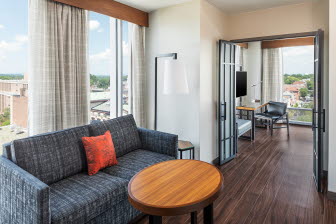 "Our development philosophy, in addition to being collaborative which means taking the time to really listen to the community, is we look for the tough projects. We don't back away from them. We look for projects that help to reshape, define and enhance the communities where we operate in such a way that when we're done, the whole is greater than the sum of the parts." - Mark Fitzgerald, President & COO, High Real Estate Group LLC