Main Content
Courtyard by Marriott Lancaster: The First 100% Solar-powered Marriott Hotel in U.S.

Courtyard by Marriott-Lancaster Sets the Pace
At 133 rooms, the Courtyard by Marriott-Lancaster at 1931 Hospitality Drive is the first Marriott-branded hotel in the United States with 100 percent of its electricity needs generated from solar power. It is also believed to be the first solar array in the country installed for the sole purpose of generating 100 percent of the electricity needs of a hotel.
In just one hour, the sun sends more than enough power to Earth to meet the planet's energy needs for a full year, and High's Courtyard By Marriott Hotel in Lancaster is now harnessing that power to generate more electricity than the facility actually uses.
The Marriott has installed a solar power system that creates about 1,239,000 kilowatt-hours of electricity every year, while the hotel uses only about 1,177,000 kilowatt-hours. The excess power becomes an asset that High sells to the local utility. Any extra solar electricity then goes back into the power grid to help supply nearby homes and businesses with clean renewable energy.
Producing this much electricity requires a lot of solar panels and a lot of space, whether on a roof or on the ground. The Marriott's solar array of 2,700 panels is more than two football fields in size, which is too big for the roof of the hotel. So High placed the system on the roof of a warehouse near the hotel within Greenfield. To enable hotel guests to see how much power the system is producing in real time, High installed a meter in the hotel lobby.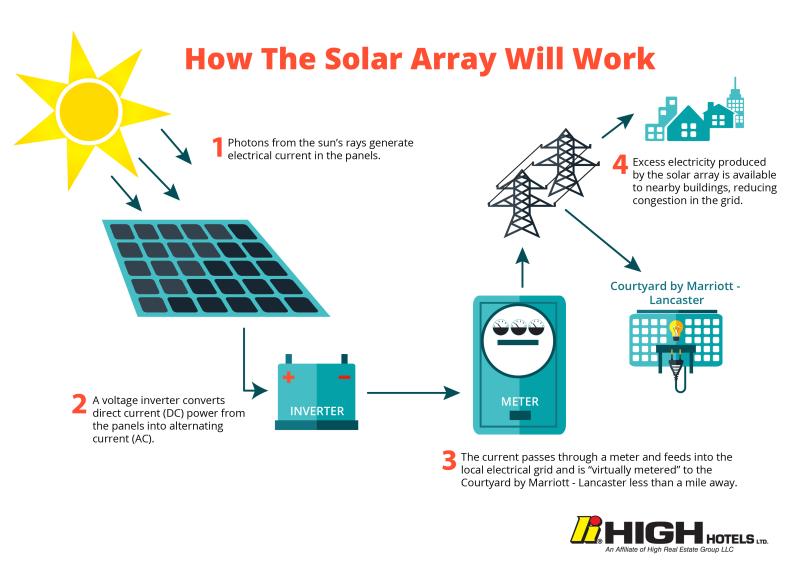 Creates enough electricity to power 138 homes for a year

Guests can see a meter display and take pride in choosing this first-solar-powered Marriott

Guests notice no difference in the function of electrically-powered amenities at the hotel
A Shared Vision
The successful completion of this large project required the cooperation of many parties, both within and outside High. First is the partnership between High and Marriott. Both companies strive for excellence in all they do and share an ongoing, mutually beneficial relationship that produces great results in every venture in which they cooperate.


The cost of the solar electric system was $1.5 million, and The Pennsylvania Department of Economic and Community Development's Commonwealth Financing Authority supplied a grant of $504,900. Special thanks go to Pennsylvania State Representative Keith J. Greiner and Pennsylvania State Senator Scott Martin for helping to secure this grant.

"This is a cutting-edge project that is exactly the kind we are looking for to promote the generation and use of solar energy," said DCED Secretary Dennis Davin. "I am very pleased that the first Marriott in the U.S. to receive 100 percent of its electric needs through a renewable solar energy system is located right here in Central Pennsylvania."

Other vital partners:
M&T Bank, which supplied the financing for the project

MVE Group in Ephrata, the electrical contractor who did the construction and installation work necessary to get the solar power flowing

Within the High companies, participating organizations were High Hotels, High Real Estate Group, High Associates, and High Properties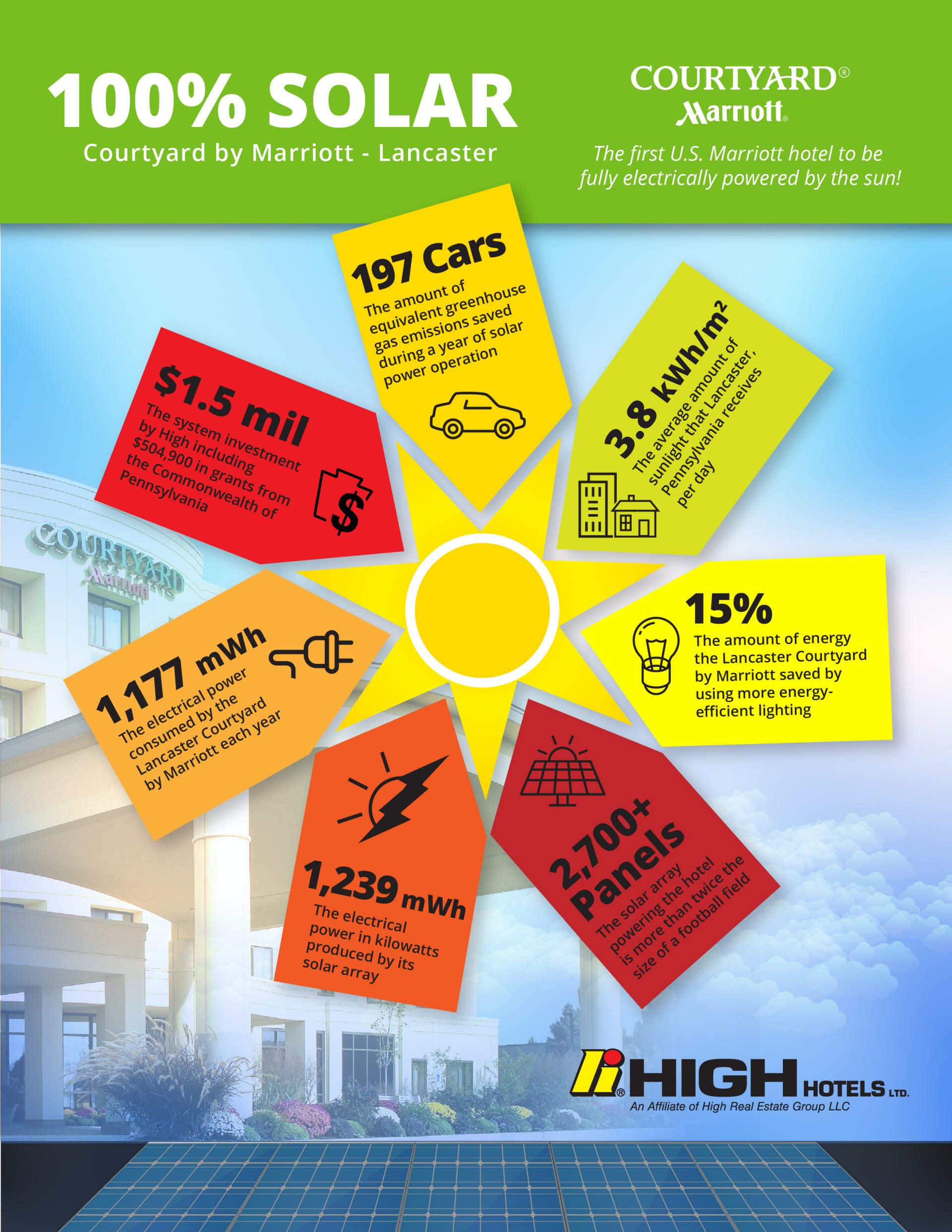 More Sustainable Steps
Generating the hotel's own electricity is one environmentally conscious improvement, and another important step is the replacement of the hotel's traditional lighting with LED lamps. The hotel has a lot of lights and replacing them with LEDs has reduced the hotel's overall power consumption by 15 percent.


All High Hotel properties have comprehensive plans to make them good stewards of the earth and its resources, including:


Comprehensive Recycling Programs

Installing low-flow faucets, showerheads, and toilets

Donating linens and other items throughout the communities in which they operate

Throughout Greenfield, High's flagship business center where the Courtyard-Lancaster is located, High has been taking on and fulfilling their commitments to environmental sustainability for decades. The creation of the first energy-independent Marriott Hotel is just one more earth-friendly step that High has taken.


Restoration of two riparian buffers along the streams that cross the corporate center, including being the first property of its kind in Lancaster to restore such a buffer in 1999

Installation of free electric vehicle charging stations in 2012

Upgrade of campus buildings with high-efficiency fluorescent lighting, or LED, as well as occupancy sensors

Modification of planting areas to indigenous species to reduce watering requirements

Roof replacements made with increased insulation to prevent heating and cooling loss

Installation of high-efficiency HVAC systems

Materials removed in renovations recycled; new material selections reviewed for recyclable content in their manufacturing
The High Philosophy
Sanford H. High founded High Welding Company in 1931 with a keen focus on innovation and serving his customers — and serving them well. This came to be known as The High Way.
We are committed to two great tasks:
Building Trustworthy Relationships
Valuing our customers and meeting their needs

Respecting the dignity of all co-workers and their families

Energizing our teamwork with participative management

Recognizing and rewarding the accomplishments of our co-workers

Strengthening our partnerships with suppliers

Contributing to a world of beauty and prosperity and peace
Being Innovative Leaders
Creating an environment for innovation since 1931

"Right the first time" - High-quality products and services

Investing profits to secure our future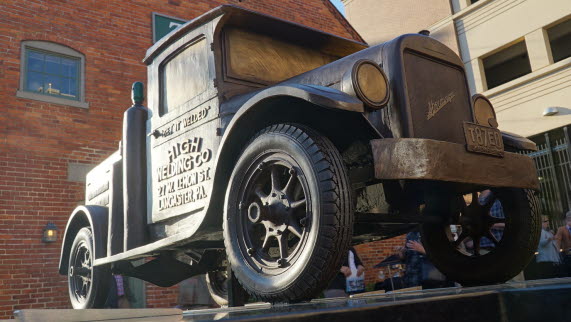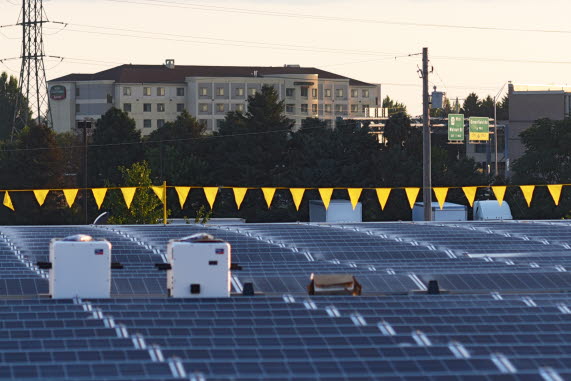 Interesting Facts about Solar Power & Lancaster
Benefits of solar panels for hotels
With proven efficiency, solar technology has been getting more and more popular in the hospitality industry in recent years. There are numerous ways solar power can benefit businesses across different industries. In this post, we list three key ways hotels and resorts can save money and grow their businesses at the same time by installing solar panels.
Instant savings on energy bills
While the cost to install solar panels is a fixed expense, the solar system continues producing energy through and even beyond 25 years. So, the money you pay to go solar will eventually be paid off.
Demonstrate environmental stewardship
It goes without saying that solar power in hotels can bring great environmental benefits:
Generates sustainable and emission-free energy

Requires few resources: no coal, trees, or any other fossil fuels

Doesn't harm the nearby ecosystem

Reduces CO2 and other air pollutants
Invest energy savings in multiple hotel upgrades
Now, with the savings you'll be getting from going solar, you are able to re-invest that in marketing. You can also think about making improvements in terms of hotel renovations, remodeling, and customer experience services.
If going solar can free up thousands of dollars for your hotel per month, that's a forever improvement to your profit margins. Even if you can only go solar for some parts of your system, that already means a five-figure savings every year.
Lancaster & Solar power
Pennsylvania isn't exactly a Sun Belt state, so people may ask if a location at 40˚ North latitude receives enough sunlight to make a solar electric system viable. The answer is yes, and while Lancaster isn't the world's #1 location for solar power potential, it is still quite good, averaging 3.8 kWh/m2 daily available sunlight.
Five factors determine a location's solar potential: latitude, cloud cover, elevation, shading, and aerosols, which are minute particles suspended in the atmosphere. Using these criteria, scientists have determined that the place on Earth with the best solar potential is the Atacama Desert on the West Coast of South America.
Pennsylvania receives about 2/3 the solar radiation of states in the Southwest U.S.; in 2016 it ranked 18th for solar kWh produced. As one of 29 states with a Renewable Portfolio Standard, Pennsylvania was required to obtain at least 0.5 percent of its electricity from solar by 2021.
Frequently Asked Questions About Solar Powered Hotels
Question 1: How is solar energy used in hotels?
Answer: Hotels generate electricity from solar energy by installing solar panels on the ground or rooftops. Solar panel installation takes around three weeks, so hotels won't have to shut down during the construction period.
Question 2: Why are solar panels good for hotels?
Answer: Saving on hotels' electricity bills is obviously one of the most important benefits. Electricity generated from solar panels will be dropped into the hotels' existing electrical systems and is a significant addition to the existing grid connection.
Question 3: How can we tell if a hotel uses solar energy?
Answer: Solar-powered hotels are easily recognized from the outside because their roofs or façades are usually covered with solar cells or solar panels.
Question 4: How long do solar panels normally last?
Answer: Solar panels are known to last over 25 years. In fact, many solar panels installed back in the 80s are still working at expected capacity.
Question 5: Do hotels need to clean their solar energy panels frequently?
Answer: Even though solar panels need to be exposed to sunlight to generate power, you don't have to clean your solar panels frequently unless your neighborhood is smoggy, dusty, and dirty all year round.