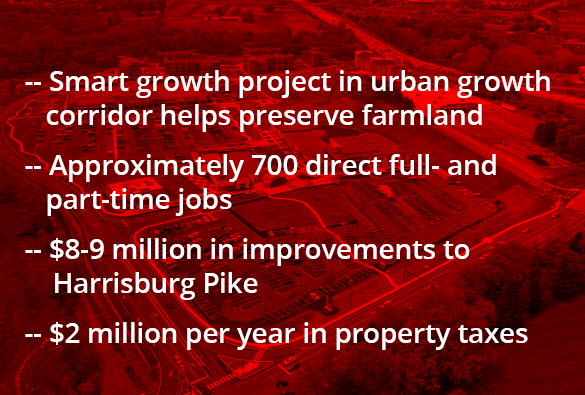 The Crossings at Conestoga Creek
At a Glance:
An open-air, lifestyle-focused retail shopping center at Lancaster's western gateway
Main Street-oriented development combines retail, hospitality, and multi-family housing
Anchored by renowned, award-winning Wegmans food market
The largest project to date for High Real Estate Group
"The Crossings brings people together in unique and exceptional experiences that keep them wanting more." - Mark Fitzgerald, President and COO, High Real Estate Group LLC
A Regional Destination, A Place to Gather
The Crossings at Conestoga Creek is all about a unique, socially-interactive, memorable experience for living, shopping, and visiting. From Wegmans, the grocery store anchor Lancastrians overwhelmingly wanted most, to Main Street-style retail shopping, luxurious apartment living, a 7-screen movie theater, a Residence Inn by Marriott, and more, The Crossings is a unique destination that draws people together.
BUILT ON SMART-GROWTH PRINCIPLES
High adheres to smart-growth principles that ensure that our development is environmentally sensitive, economically viable, community-oriented, and sustainable. So from the outset, this project was predicated on satisfying the overarching smart-growth questions that determine its contribution to making Lancaster more livable and vibrant.
Here's a short summary that sets forth the questions and outlines ways in which The Crossings helps to address them.
First, how can the project be integrated into the overall development pattern of the region? Built within the urban growth corridor, The Crossings is ideally located near existing retail and recreational space and is on the major Route 30 artery at Harrisburg Pike, which is only three miles from Lancaster City. The development is consistent with Places 2040, the comprehensive plan put forth by the Lancaster County Planning Commission.
Next, how is the project sustainable, does it draw and create jobs, grow businesses and serve the community? The Crossings is an exceptional place due in large part to the extensive work and preparation that helped secure the highest caliber anchor. As they say, there's truly a there there, and it starts with Wegmans. The project produces $2 million per year in property taxes including $1.5 million per year in new tax revenue for Manheim Township School District, $200,000 in Manheim Township taxes, and $300,000 in Lancaster County taxes.
How can the project protect open space and ensure the best use of resources along the fringes of our communities? The Crossings is the result of careful market analysis and addresses the growing demand for retail, hospitality, and multi-family space. This helps take development pressure off outlying areas, reducing sprawl, protecting farms, and preserving the character of Lancaster County. The project incorporates best practices for development density and stormwater management.
And last, how can the project protect and upgrade the community's aging infrastructure? Development projects are crucial for dealing with outmoded roadways, and The Crossings is no exception. Heavily trafficked Harrisburg Pike, the key corridor where The Crossing is located, was already overburdened when the project was proposed. Between $8 and $9 million in off-site improvements now allow traffic to move more safely and easily and included $1.2 million for roads in neighboring East Hempfield Township.
High Real Estate Group is a full-service real estate organization providing expertise in development, brokerage, architecture, construction, and investments, and holds real estate assets with annual revenue of $230 million and an estimated market value of approximately $1 billion. When it comes to smart-growth development, High can mobilize extensive resources to accomplish a vision that contributes to the strength and future of the communities in which we live and do business.
Join a Great Team
High has more than 2000 talented and dedicated co-workers, and we're always trying to make this great team even better. A rewarding career awaits you. If you believe that your talents are a fit here, please get in touch.
APPLY NOW
A winning formula
As the retail landscape evolves, open-air, grocery-anchored centers continue to gain ground with consumers. And Wegmans is the ultimate anchor store. High is extremely pleased to be able to partner with Wegmans—another multi-generational, family-owned company—in bringing its highly distinguished grocery store to Lancaster.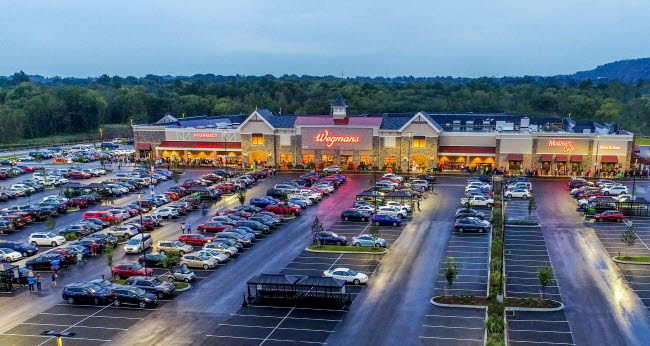 Wegmans, the grocery anchor Lancastrians most wanted, is an experience in and of itself, with extensive prepared food, a pub, a pharmacy, all with a European-style market ambience.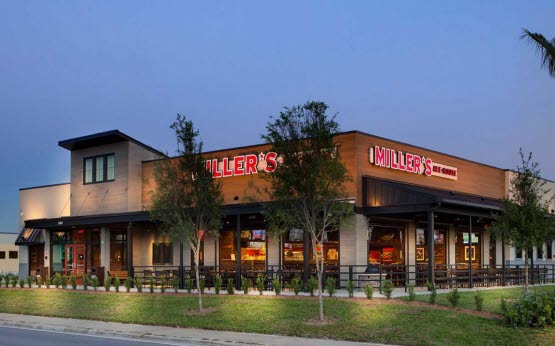 Guests and residents of The Crossings are welcomed by Miller's Ale House near the front entrance.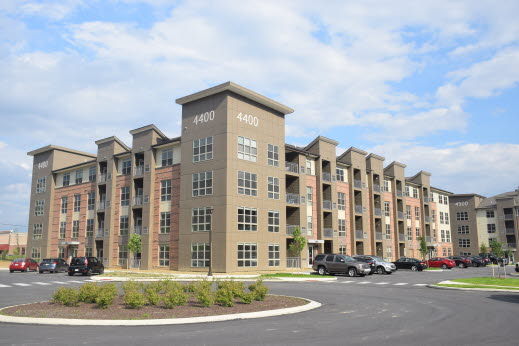 The Crossings offers 258 one-, two-, and three-bedroom luxury apartments with high-end finishes.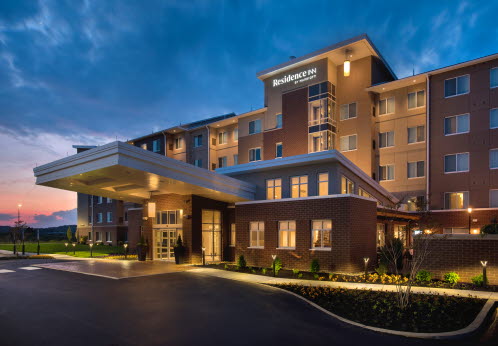 Designed to make life on the road pleasant for business travelers, the 127-suite Residence Inn is located right beside Route 30, putting it close to downtown Lancaster, Franklin & Marshall College, and many of Lancaster's bustling businesses.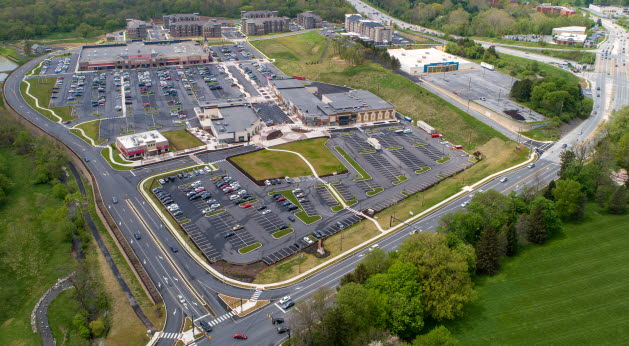 The former Toys R Us (far right) will be integrated into The Crossings at Conestoga Creek.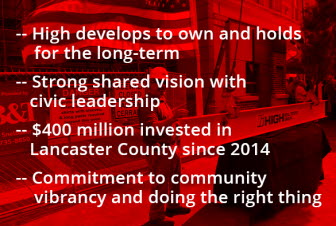 "We take great care in how we facilitate development in our communities, and smart-growth principles guide our thinking." - Ken Hornbeck, CCIM, Senior Vice President - Development
Open-minded single-mindedness
For the team at High, working in construction and development offers many rewards, as The Crossings shows, and many lessons including the importance of maintaining focus and staying flexible to meet shifting market requirements. Eleven years passed between the time in 2006 when the development team at High first had the vision for The Crossings and the day in 2017 when the groundbreaking ceremony took place. Then, it was another year and a half until Wegmans opened. Persistence pays.
During those years, the High team worked through the acquisition of the 90-acre site, planning, zoning, and an evolving vision for what the project was to become. Collaboration is an integral part of everything that High does, and the company worked closely with municipalities and local residents to be sure that the project delivered the maximum benefit to all the stakeholders. Three municipalities come together at the site, which is in Manheim Township, while Lancaster city is across Harrisburg Pike, and East Hempfield Township is across the Conestoga Creek, just behind the development.
Many officials from Lancaster County and the Commonwealth of Pennsylvania also aided in the successful completion of this project, as did financial institutions, engineers, architects, and others. , architects, engineers, construction workers, and members of many different High divisions.
STILL MORE TO COME
Penn State Health has announced the largest pediatric center in Lancaster County in The Crossings, on the adjacent 6.3-acre former Toys R Us property. Read more.