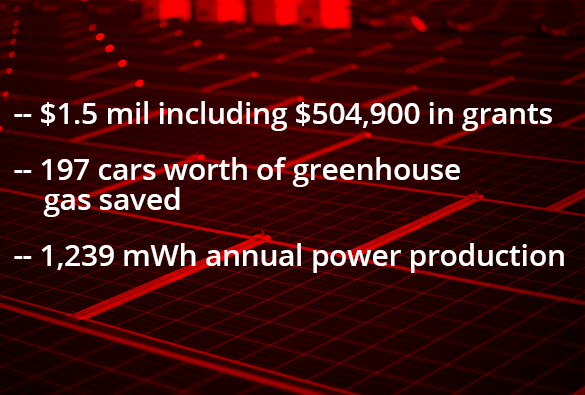 Courtyard by Marriott-Lancaster Sets the Pace for Environmentally-Conscious Travelers
At a Glance
2,700 solar panels located on the roof of a nearby warehouse occupy 135,200 square feet
Creates enough electricity to power 138 homes for a year
Guests can see a meter display and take pride in choosing this first-solar-powered Marriott
Guests notice no difference in the function of electrically-powered amenities at the hotel
High received a grant of $504,900 from the Commonwealth Financing Authority (CFA) for the project
Here comes the sun
At 133 rooms, the Courtyard by Marriott-Lancaster at 1931 Hospitality Drive is the first Marriott-branded hotel in the United States with 100 percent of its electricity needs generated from solar power. It is also believed to be the first solar array in the country installed for the sole purpose of generating 100 percent of the electricity needs of a hotel.
In just one hour, the sun sends more than enough power to Earth to meet the planet's energy needs for a full year, and High's Courtyard By Marriott Hotel in Lancaster is now harnessing that power to generate more electricity than the facility actually uses.
The Marriott has installed a solar electric system that creates about 1,239,000 kilowatt-hours of electricity every year, while the hotel uses only about 1,177,000 kilowatt-hours. The excess power becomes an asset that High sells to the local utility. Any extra electricity then goes back into the power grid to help supply nearby homes and businesses with clean renewable energy.
Producing this much electricity requires a lot of solar panels and a lot of space, whether on a roof or on the ground. The Marriott's solar array of 2,700 panels is more than two football fields in size, which is too big for the roof of the hotel. So High placed the system on the roof of a warehouse near the hotel within Greenfield. To enable hotel guests to see how much power the system is producing in real time, High installed a meter in the hotel lobby.
MORE SUSTAINABLE STEPS
Generating the hotel's own electricity is one environmentally conscious improvement, and another important step is the replacement of the hotel's traditional lighting with LED lamps. The hotel has a lot of lights and replacing them with LEDs has reduced the hotel's overall power consumption by 15 percent.
All High Hotel properties have comprehensive plans to make them good stewards of the earth and its resources, including:
Comprehensive Recycling Programs
Installing low-flow faucets, showerheads, and toilets
Donating linens and other items throughout the communities in which they operate
INITIATIVES WITHIN GREENFIELD
Throughout Greenfield, High's flagship business center where the Courtyard Lancaster is located, High has been implementing environmentally responsible practices for decades. The creation of the first energy-independent Marriott Hotel is just one more earth-friendly step that High has taken.
Thinking About A Career With High?
We have two thousand awesome co-workers and we're always eager to add more. So, if you're looking for a place where you can fully utilize your talents and be part of a company that does amazing things, please get in touch.
APPLY NOW
IT'S FOR THE PLANET
"In the end, it's not an economic decision that makes this happen. You've got to want to do it for the environment," said Urban. "Not only does it feel good because it's the right thing to do, but also consumers are asking for it."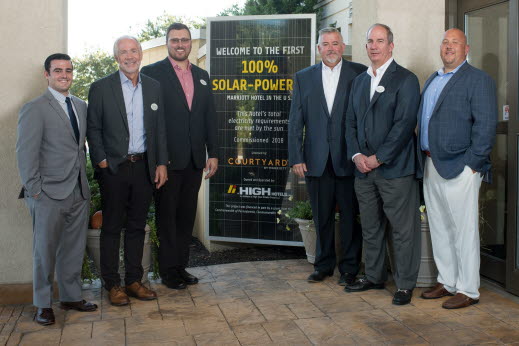 High Hotels Ltd.'s Courtyard by Marriott-Lancaster goes 100% solar-powered. Pictured (L-R): Greg Welker, Director of CFA Programs Division, Pennsylvania Department of Community & Economic Development; Russ Urban, President, High Hotels Ltd.; Jeremy Geib, General Manager, High Hotels; Mike Lorelli, Senior Vice President – Commercial Asset Management, High Associates Ltd.; Tony Seitz, Vice President – Development, High Associates; Ty Esbenshade, Vice President of Sales and Marketing, MVE Group Inc., the contractor for the solar installation.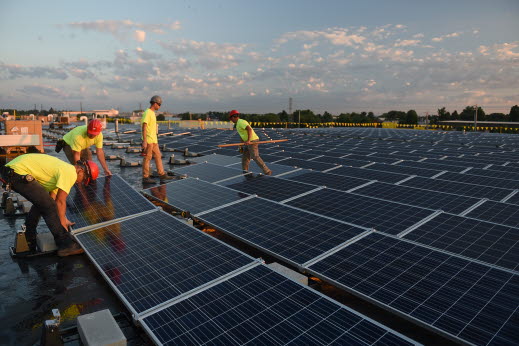 Workers installed 2,700 solar panels on the roof of a warehouse near the hotel within Greenfield.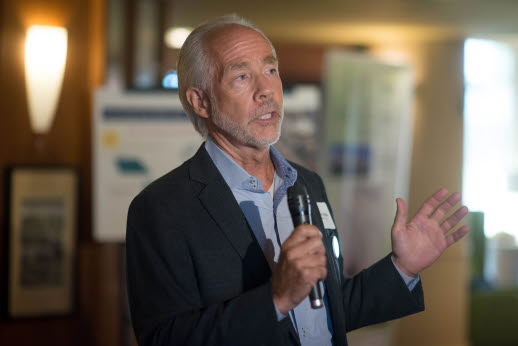 Russ Urban, President, High Hotels Ltd., addressed about 75 staff, community members, elected officials, and onlookers during a ceremony at which the electric power switched over to renewable energy at the Courtyard by Marriott in Lancaster, Pa. The hotel is owned and operated by High Hotels.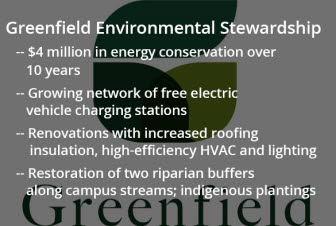 A Shared Vision
The successful completion of this large project required the cooperation of many parties, both within and outside High. First is the partnership between High and Marriott. Both companies strive for excellence in all they do and share an ongoing, mutually beneficial relationship that produces great results in every venture in which they cooperate.
The cost of the solar electric system was $1.5 million, and The Pennsylvania Department of Economic and Community Development's Commonwealth Financing Authority supplied a grant of $504,900. Special thanks go to Pennsylvania State Representative Keith J. Greiner and Pennsylvania State Senator Scott Martin for helping to secure this grant.
"This is a cutting-edge project that is exactly the kind we are looking for to promote the generation and use of solar energy," said DCED Secretary Dennis Davin. "I am very pleased that the first Marriott in the U.S. to receive 100 percent of its electric needs through renewable solar energy is located right here in Central Pennsylvania."
Other vital partners:
M&T Bank, which supplied the financing for the project
MVE Group in Ephrata, the electrical contractor who did the construction and installation work necessary to get the solar power flowing
Within the High companies, participating organizations were High Hotels, High Real Estate Group, High Associates, and High Properties
INTERESTING SOLAR FACTS
Pennsylvania isn't exactly a Sun Belt state, so people may ask if a location at 40˚ North latitude receives enough sunlight to make a solar electric system viable. The answer is Yes, and while Lancaster isn't the world's #1 location for solar power potential, it is still quite good averaging 3.8 kWh/m2 daily available sunlight.
Five factors determine a location's solar potential: latitude, cloud cover, elevation, shading, and aerosols, which are minute particles suspended in the atmosphere. Using these criteria, scientists have determined that the place on Earth with the best solar potential is the Atacama Desert on the West Coast of South America.
Pennsylvania receives about 2/3 the solar radiation of states in the Southwest U.S.; in 2016 it ranked 18th for solar kWh produced. As one of 29 states with a Renewable Portfolio Standard, Pennsylvania is required to obtain at least 0.5 percent of its electricity from solar by 2021.