Main Content
High Transit Delivers for Annual U.S. Wreath-laying Event
High Transit LLC
Specialty heavy-haul transportation company High Transit LLC had the privilege of dedicating three drivers to deliver trailers of balsam wreaths with red ribbons for Wreaths Across America. The annual holiday wreath-laying event to remember America's fallen veterans was held in cemeteries across the country on December 17th.
"We want to honor those who made the ultimate sacrifice for our country," said Dino Kondos, president of High Transit. "Our drivers are used to hauling oversize loads such as girders for High Steel Structures, building components for High Concrete Group, and just-in-time metal shipments for High Steel Service Center. They clamor to volunteer for Wreaths Across America." Kondos joined a human chain of volunteers to help unload the truck.
High Transit trucks brought loads of more than 4,000 wreaths each from Maine to locations in Virginia and Pennsylvania. Driver Robert Oldham and his wife Carol delivered to Arlington National Cemetery just outside Washington, D.C. The company also sent truckloads to Fort Indiantown Gap National Cemetery in Lebanon County, Pa., Newtown Historic Presbyterian Church Cemetery in Bucks County, Pa., and Leesport Cemetery in Berks County, Pa.
About Wreaths Across America
Wreaths Across America coordinates wreath­-laying ceremonies at more than 2,500 locations across the United States, at sea, and abroad. The 501(c)(3) nonprofit's mission is carried out in part each year by coordinating wreath-laying ceremonies in December at Arlington National Cemetery as well as at hundreds of veterans' cemeteries and other locations in all 50 states and beyond. Learn more at wreathsacrossamerica.org.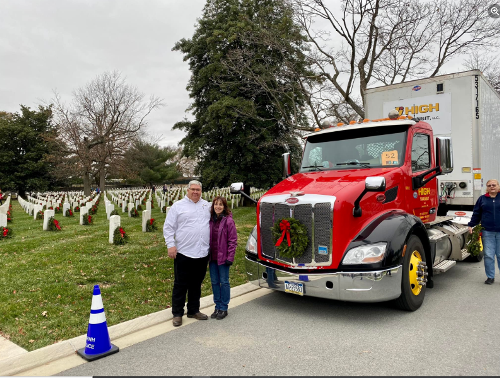 High Transit driver Robert Oldham and his wife Carol in Arlington National Cemetery