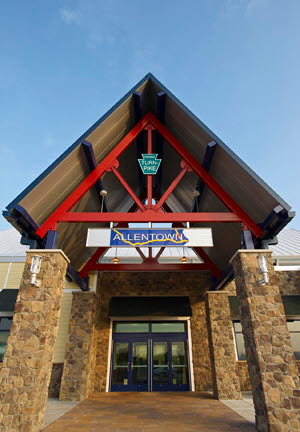 Sustainability at High
We invite you to read our recent series of articles on sustainability which have appeared in Busniness2Business magazines, a monthly management practitioner's journal for Central Pennsylvania executives.
PA Turnpike service plaza in Allentown, PA
The Pennsylvania Turnpike service plaza in Allentown, Pa., was reconstructed by High Construction Company, recipient of the General Contractor Sustainable Design award for the project.
We believe that being environmentally responsible is the right thing to do, as all of us are stewards of the resources we've been given. Our task is to meet the needs of today while preserving the environment for the generations to follow.
Our commitment to a greener tomorrow is a progressive, comprehensive, environmentally responsible approach to the activities used to design, produce and deliver our products and services, and also to help our customers reach their sustainability objectives.
Our formally established Green Initiative is an ongoing, committed program designed to reduce our companies' carbon footprints through careful management of greenhouse gas emissions and an environmentally responsible approach to the processes that we use to produce and deliver our products and services.
High Construction, Greenfield Architects, High Associates, and High Hotels have achieved Green Plus™ certification—the Institute for Sustainable Development's highest level of recognition of dedication to triple-bottom-line sustainability by measuring business, environmental, and community practices.
We continue to develop and expand our team of professionals who have earned sustainability-related designations including:
LEED AP®
LEED Green Associate TM
Green Advantage®
Certified Carbon Reduction Manager
Certified Energy Manager
In addition to guiding the High companies' sustainability efforts, this expertise allows us to assist customers in creating energyefficient and environmentally friendly projects.
High Concrete Group's maintenance facility earned LEED Silver green building certification and earned a GreenSite award. Greenfield Architects Ltd. and High Construction Company, affiliates of High Real Estate Group LLC, teamed to deliver this design-build project. High Concrete Group supplied precast concrete products used to create this facility including thermally efficient wall panels and CarbonCast® double tees used for the roof.
In High Construction's recent reconstruction of a Pennsylvania Turnpike plaza in Allentown, Pa., everything that could be recycled was recycled. This type of comprehensive approach to recycling significantly reduces disposal charges and saves landfill space. This particular project was honored in 2009 by Associated Builders & Contractors with a Sustainable Design Green Award.
And to us, sustainability means more than producing and providing better products and services. It means taking a holistic approach to the social, environmental and economic aspects of business and being responsible stewards of valuable resources. It also means helping customers accomplish their own similar goals.
Learn more about our sustainability efforts by reading a recent article: High Companies Amplify and Formalize Long Established Green Initiatives.