Kids wowed by "Crazy Chemistry," science at elementary schools
The S.P.A.R.K.S. Foundation, a 501(c)(3) nonprofit, recently brought its Science Explorers "Crazy Chemistry" program to an elementary school in Lancaster, Pa. "Windsock" Wendy led a school assembly with dramatic experiments demonstrating physical and chemical reactions that brought to life the three states of matter. "Galaxy" Gray helped fourth-graders create colored styrofoam in an exothermic reaction they will remember for a long time to come.
As schools face budget cutbacks, S.P.A.R.K.S. Foundation brings exciting, award-winning science education programs that engage children ages 4 through 11 throughout the Mid-Atlantic region and nationally. "Many kids don't have the opportunity for quality, inquiry-based science," says development director "Jupiter" Jen Moorhead. "Our mission is to partner with businesses who have a presence in the community, then work with elementary schools to support the faculty and help the children, especially the fourth-graders who will take state-mandated testing."
High Companies sponsors S.P.A.R.K.S. Foundation Science Explorers as part of its strategic effort to excite students early on about STEM career paths. For more information, please visit sparksfoundation.org and scienceexplorers.com.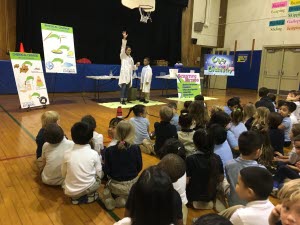 "Windsock" Wendy leads a school assembly