Cocalico Middle School to start construction for new media center in May
High Companies has contributed $5,000 toward the renovation of the Cocalico Middle School library. The donation will help pay to convert sections of the existing facility to a media center to support an expanding curriculum in digital media.
The Cocalico School District plans include a recording room with a green screen to support classroom media creations, a 3D printer, projectors for large group instruction and faculty meetings, robotics, and spaces for digital collaboration.
"These are maker spaces," said Anthony DiMatteo, Cocalico Middle School's principal. "Students will have autonomy to tinker and learn." He expects to double the number of teachers using the library. "We're leaving open some of the equipment decisions until we see what the students' interests are, then we'll layer equipment as needed."
"We're thrilled to support the school's efforts," said Darryl Gordon, vice president, Human Resource Services / EEO officer for High. "This is a natural fit with our Bridge to Opportunity initiative which includes increasing the capacity of career and technical education. We want to help excite students early on about STEM career paths."
The High grant is funded through the Pennsylvania Department of Community and Economic Development Educational Income Tax Credit (EITC) program. Demolition will begin in mid-May, with completion of the renovations scheduled for August 16 in time for the 2019-2020 school year which begins August 20.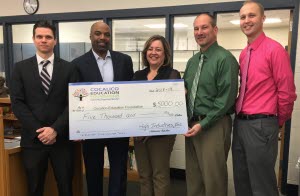 EITC grant for Cocalico Middle School