Teams Up with Lancaster Marriott's Plough Restaurant for National EMS Week to Pay Homage to Front-Line Workers During COVID Pandemic
In recognition of National EMS Week, Lancaster EMS first responders received artisanal meals from none other than Chef Ryan McQuillan, head chef of Lancaster's Plough restaurant, courtesy of the High companies.
Drivers from High Associates Ltd., in High's signature red and yellow vans, delivered nearly 100 of Chef Ryan's meals in box lunches to Lancaster EMS members throughout Lancaster County. High's gesture acknowledges the efforts and sacrifices made by those who are on the front lines of the crisis every day.
"The team at High is proud to share a delicious, locally-grown, and freshly-prepared farm-to-table meal with our hard-working Lancaster County EMS first responders," said Mark Fitzgerald, President and COO, High Real Estate Group LLC. "We are grateful for their commitment to our community, their courage under duress, and their professionalism throughout this unprecedented health crisis."
For each individually portioned meal, Chef Ryan prepared a prosciutto sandwich with provolone, with a basil pesto on house-made focaccia. The sandwich was accompanied by a blueberry, farro, and arugula salad with sunflower seed and a balsamic dressing, chocolate chip cookies, and chips. Field's Edge Farm in Lititz is the source of the local ingredients.
In addition to being a Partner in the Marriott Hotel at Penn Square, High is the owner of multiple real estate holdings in Lancaster County including Greenfield Corporate Center and The Crossings at Conestoga Creek. High has been a long-time sponsor of Lancaster EMS. As well, High Steel Structures LLC co-workers frequently collaborate with first responders through annual High First Aid Team triage exercises.

About the High® companies

High is one of Central Pennsylvania's leading names in industry and real estate. Established in 1931 and family-owned, the High companies' many products and services touch the lives of area residents every day. High employs nearly 2,000 co-workers, including 1,500 full-time and nearly 200 part-time Central Pennsylvania residents.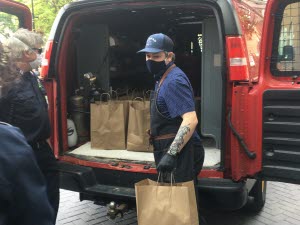 Chef Ryan McQuillan loads a High Associates van