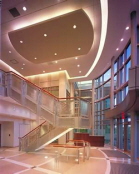 Bosch Security Systems' 212,000-square-foot headquarters and manufacturing center located in Lancaster, Pa., is a prime example of High Real Estate Group LLC's full-service capabilities.
We defined a solution for this world-wide industry leader—a provider of high-quality security solutions—by drawing on multiple sources of expertise within High Real Estate Group. Defining an innovative strategy and demonstrating unprecedented execution in development services, architecture, construction and property management combined for a successful outcome. Our unique build-to-suit-to-lease approach provided Bosch with a facility that exceeded their expectations. A Philips CSI (now Bosch) representative said, "Our new home is truly a world-class, professional facility that clearly makes a positive statement to the customers of our commitment to the global security business. The attention to detail by all employees of High has been exemplary."
The complex project demonstrates our commitment to developing world-class facilities that reflect the unique needs and stature of each customer's business. In this case, we were challenged to create an integrated facility that promotes communication and teamwork and reinforces Bosch's high-tech image. Bosch's new integrated facility consists of a two-story, 66,000-square-foot corporate office building connected to a 146,000-square-foot manufacturing/distribution center via a glass corridor. Careful materials selection and a progressive design approach delivered the industry-leading image the customer was seeking.
Featured in several industry publications and ranked at the top of the list of BuildingDesign & Construction's "57 Great Ideas: Proven Innovations You Can Implement Right Now," the project demonstrates High Real Estate Group's ability to develop creative approaches to meet customers' needs.