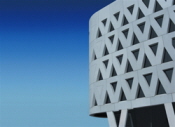 High Concrete Group LLC is one of the nation's largest architectural and structural precasters and is the top producer of precast parking garages. Serving five of the nation's top ten metropolitan areas with plants in Denver, Pennsylvania; Springboro, Ohio; Paxton, Illinois; and Buena, New Jersey; High Concrete combines innovation, proven technology, nearly a century of experience as a concrete producer, and more than 50 years as a precaster to bring architectural design concepts to life. The products it manufactures are used in various types of applications including corporate, cultural, governmental, institutional, multi-unit residential, educational, entertainment, retail, industrial, and warehouse facilities.

High Concrete's achievements include development of the nation's first 12-foot-wide double tees and the nation's only 15-foot- and 16-foot-wide double tees—made possible by its patented tilt-frame transporter. Other industry firsts include a line of patented casting accessories and its new StructureCare™ parking-garage maintenance program. High Concrete's co-founding of AltusGroup, Inc.—a company of precasters dedicated to the development and nationwide marketing of innovative precast products—has led to the development of CarbonCast® precast products, which are lighter, better insulating, more durable, and more LEED®-friendly than conventional precast.

High Concrete is the building team's single source for the highest quality precast concrete components, systems, and service—the Concrete Innovations and Answers® it needs to deliver projects on scope, on schedule, and on budget.