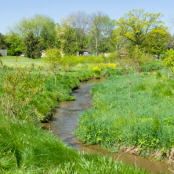 High's Greenfield Corporate Center is the first property of its kind in Lancaster County, Pa., that is home to a riparian buffer. This naturalized landscape feature helps filter run-off, contributing to improved health of the Chesapeake Bay watershed.

A portion of our well-maintained grounds at Greenfield Corporate Center in Lancaster, Pa., a 600-acre master-planned business campus, is now a little less manicured, and for good reason.

A riparian buffer was installed at Greenfield by the Little Conestoga Watershed Alliance. It is a naturalized landscape feature that consists of more than 200 trees and shrubs planted along a tributary of the Little Conestoga Creek which, via the Conestoga and Susquehanna Rivers, connects to the Chesapeake Bay. Volunteer members of the alliance planted approximately one acre of trees and shrubs, and natural grasses are left undisturbed to grow and reseed in a naturalized environment. Buffers such as the one at Greenfield, typically 20-30 feet wide along the sides of a creek or river, serve as "green sponges" that filter storm-water runoff, reduce erosion, and provide wildlife habitat.

The Little Conestoga Creek has a watershed area of 65.5 square miles. High nutrient levels, severe bank erosion, siltation, urban storm-water runoff, and industrial pollution have put the Little Conestoga Creek on the List of Impaired Waters as defined in Section 303(d) of the Federal Clean Water Act.

Pictured: Riparian buffer installation along Little Conestoga Creek at High's Greenfield Corporate Center, Lancaster, Pa.