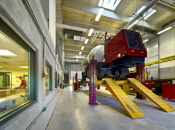 Several of the High companies teamed up to create a LEED® Silver-certified facility for High Concrete Group that would eventually be selected as the winner in the GreenSite Project of the Year 2009 contest in the industrial category.
Greenfield Architects and High Construction, affiliates of High Real Estate Group, partnered as design builders for the project, and High Concrete Group served as the precast concrete contractor.
Only the second facility in Lancaster County to earn the LEED designation, the 16,200-square-foot-building meets the standards of the LEED (Leadership in Energy and Environmental Design) rating program of the U.S. Green Building Council at the level of Silver. LEED-certified buildings are built according to sustainable design guidelines and are more energy efficient and environmentally friendly than typical new construction.
Winners of the GreenSite awards were selected based on such factors as innovative techniques, use of innovative materials or products, cost- or time-saving methods, innovative engineering design, workmanship, and creativity.
The all-precast concrete building features numerous green-related characteristics including thermally efficient sandwich precast concrete wall panels. With insulating foam sandwiched inside between the panels, the product provides an R-value of 25. It's reinforced with innovative CarbonCast® carbon fiber shear trusses, making them structurally composite for load bearing. The roof is composed of CarbonCast double tees. Also used for the driving surfaces in parking garages, the double tees are made with non-corrosive carbon fiber flange reinforcement and are 10 percent lighter in weight than traditional double tees.
This achievement is another example of our commitment to a greener tomorrow — a progressive, comprehensive, environmentally responsible approach to the activities used to design, produce and deliver our products and services, and also to help our customers reach their sustainability objectives.
Pictured: High Concrete Group's award-winning maintenance facility, in Denver, Pa. Architect: Greenfield Architects.