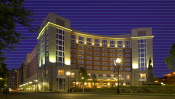 Dedicated to providing designers with choices to help reduce the carbon footprint of their LEED and sustainable design projects, High Concrete Group recently has introduced three new products that consume less energy, thereby helping to lessen environmental impact of the built environment. The threenew products added to our sustainable design portfolio since January 2010 are:

CarbonCast® Insulated Architectural Cladding
These new and patented thermally efficient precast concrete facade panels are ideal for commercial buildings requiring continuous insulation of R-12 or higher to form the skin of the building. The panels are the first of their kind – the only precast concrete system that can be lighter weight than conventional precast and thermally efficient.
EcoMix® Sustainable Precast Concrete Mix
EcoMix concrete reduces carbon dioxide by at least 50 percent in comparison to conventional cement, using supplementary cementitious materials including ground granulated blast furnace slag, fly ash, and silica fume that would otherwise be disposed of in landfills. EcoMix allows architects and designers to improve key sustainable attributes of their buildings and lower the overall carbon footprint of their precast projects.
ECast™ Weight-saving Precast Concrete
ECast strategically tailors the weight of precast members to specific project requirements. Formulated from lightweight sands and aggregates, ECast helps to reduce transportation costs and fuel use. High's Springboro, Ohio, plant uses ECast to optimize truckloads, as when weight adjustments will allow two pieces to ship instead of one.
In addition, High Concrete Group has developed an industry-leading water reclamation system that conserves up to 10,000 gallons of fresh water per day, and has earned LEED Silver Certification for a maintenance building. Both facilities are located on our Denver, Pa., facility.

Pictured: The award-winning Heldrich – a luxury hotel, condominium and retail complex in New Brunswick, N.J. – features High Concrete Group-produced CarbonCast® facades, which are energy efficient, lightweight, durable and aesthetically pleasing. CarbonCast is a registered trademark of AltusGroup, Inc.