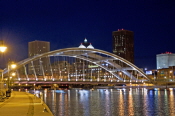 High Steel Structures fabricates massive steel components used in the renewal and expansion of the nation's bridge infrastructure. Each year,
approximately 92 percent of mill products we sourced consisted of recycled materials. And steel has a low environmental impact thanks to industry efforts to reduce emissions, recycle materials, and develop new, more Earth-friendly technologies. Virtually 100 percent of a bridge's structural steel can be recycled and made into new materials.
In addition, we build on the industry's efforts by recycling the scrap steel that is a by-product of our fabrication process – the flux used in the submerged arc welding process and the shot from the steel blasting process. We've also invested in technology to reduce VOC emissions during the steel coatings process and reduced the overall energy consumed by our facilities.

To us, sustainability means more than producing and providing better products and services. It means taking a holistic approach to the social, environmental and economic aspects of business and being responsible stewards of valuable resources. It also means helping customers accomplish their own similar goals.

Pictured: The Frederick Douglass-Susan B. Anthony Memorial Bridge over the Genesee River in Rochester, N.Y. High Steel Structures fabricated more than 5,100 tons of steel for this $41 million project.