How High Helped Me Go Back to School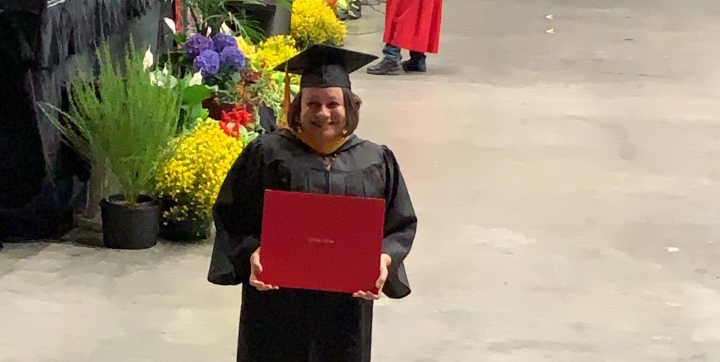 After graduating from high school, I went right into the working world and didn't really think about continuing my education. I just didn't have time for it. But when I joined the HR department at High, I realized that there were so many career opportunities and that I would be better positioned to take advantage of them if I had a bachelor's degree.
So, I wrote a letter to the Education Committee explaining my goals and requesting a meeting to present my case for entering the High Education Assistance Program. They agreed to meet with me, and, after a period of deliberation, they approved my application. I was overwhelmed! I signed an agreement with the company that outlined expectations for my grades and employment. High paid 100 percent of my tuition which I don't know if I would have been able to afford on my own.
The prospect of investing my free time this way made me both excited and a little anxious. My children were my main source of motivation for the challenge ahead. As a single mother, I wanted my children to know the importance of education and to understand that it's never too late to get a college degree. I felt that if they saw that I could do it, then they would believe that they could too.
I enrolled in Albright College's accelerated bachelor's degree program where I had seven weeks to complete each course. I looked for electives and general studies courses that I could relate to and use in my daily work. I attended the Lancaster Campus in Greenfield one evening per week. It was up to me to maintain a C average or better.
After completing my general studies, I entered the school's cohort program working alongside other students. The class sizes were small enough that I did not feel like a number and that I could build friendships and network. We relied on each other as resources and to make sure we stayed on task. For our final class, we were able to create our own businesses from the ground up. Together we built amazing relationships. When people ask me about my school experience, this is the first thing I recommend.
The support High extended did not end with tuition. I was able to bounce ideas off my colleagues. I can think of two times when I received support that I never expected. The first was during Accounting I. I just could not get the numbers to add up, and no matter what I did, my balance sheet was off. I asked our accounting team for a quick tutorial and to see if they could help and they did. A team member was able to explain to me where I should be looking to balance my sheet and why I needed to focus on that part of the sheet.
The second time, my cohort and I were nearing the end of our capstone and I wanted to share our presentation with some business leaders so that the difficult questions could be thrown at us before we went before our professors. We put on a mock presentation for our company president, human resources manager, and a general manager. Overall, they did not make it easy on us, but their feedback helped us vastly improve. Thanks to their support and guidance, we were completely prepared for the night of our presentation.
I believe that High had my back the entire time I attended college, up to and including being my cheerleaders as I successfully completed my courses.
Since earning my degree, I have had an opportunity to be promoted within the Human Resources team. My life has totally changed. I have been able to look at problem solving and relationship building at a whole new level. It has helped me become a better leader both within our company and in my personal life.
Other co-workers have looked up to me to understand the demands of working while going to school. I tell them that, while it's not easy, in the end, it's well worth it. Several have decided to take the plunge, and I am helping them with tutoring and encouragement as they follow their own higher education journeys.
- Aidalis L.