The S. Dale High Family Foundation Announces Key Sponsorship of 2017 Extraordinary Give

Contribution helps increase event's stretch pool by more than 40 percent to $500,000
The S. Dale High Family Foundation will be a Presenting Sponsor of Lancaster County's 2017 Extraordinary Give. High's $100,000 contribution will be used to help increase the event's "stretch pool" of matching donations to participating nonprofit organizations by more than 40 percent.
The Presenting Sponsorship is the highest of four sponsorship levels for the Extraordinary Give, which is an annual program of the Lancaster County Community Foundation. Now in its sixth year, Extraordinary Give is a 24-hour online giving event, which has raised more than $22.5 million to benefit more than 400 regional nonprofits. This year's event is scheduled for November 17, 2017.


"We're delighted to join with the Community Foundation as a Presenting Sponsor of the Extraordinary Give," said executive director Robin D. Stauffer. "This event is an important point of engagement for philanthropy that is producing meaningful results in Lancaster. We want to see it thrive."
The S. Dale High Family Foundation makes capital contributions through strategic partnerships that align with its focus on eliminating poverty and strengthening the City of Lancaster, Pa., as well as projects that lead to enhanced economic vibrancy for the entire community. The sponsorship announcement was made at The S. Dale High Leadership Center, a new facility that is home to the Foundation.


Beyond High, 16 other Lancaster-area companies are contributing to the stretch pool at various sponsorship levels. Only one other firm, financial adviser Rodgers & Associates, is a presenting sponsor.
About The S. Dale High Family Foundation


The S. Dale High Family Foundation is a 501(c)(3) nonprofit organization that is funded by members of the High Family, owners of the High® companies. The Foundation's overall mission is to give back to the community by providing support to nonprofit organizations in communities in which High companies do business. The current focus of the Foundation is eliminating poverty and participating in projects that enhance the City of Lancaster, Pa., and beyond. In addition, the Foundation assists High co-workers in meeting the costs of college education for their children through The S. Dale High Family Foundation Scholarship Program. For more information, please call 717.293.4444.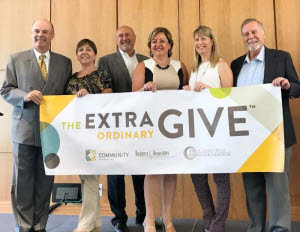 From left to right: Rick and Jessica Rodgers, Sam Bressi, Robin Stauffer, Suzanne High Schenck, S. Dale High