High Associates Ltd. Achieves Green Plus Recognition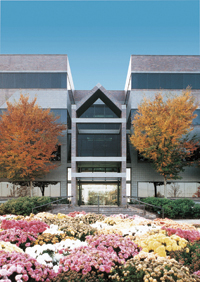 High Associates corporate offices in Lancaster, Pa. — an ENERGY STAR certified facility.
High Associates Ltd. has achieved the Institute for Sustainable Development's highest level of recognition, Green Plus™ certification. The Green Plus program recognizes dedication to triple-bottom-line sustainability by measuring business, environmental, and community practices. Since the High® companies' inception in 1931, the organization has consistently embraced key guiding principles related to sustainability, including fostering a positive work environment for employees and partners, being responsible stewards of the environment, and investing profits responsibly to secure the future in ways that are also good for the community. "High Associates has always maintained a high level of sensitivity to the environments in which we operate and has been guided by a smart-growth-driven approach to real estate development," said Mark Fitzgerald, president and chief operating officer of High Associates. "Going through the Green Plus Certification™ process was invaluable, as it helped us to expand our triple-bottom-line approach to sustainability – an approach that includes fostering a positive work environment, being responsible environmental stewards, and bettering our community for the generations that follow."

Specific activities that have contributed to Green Plus recognition

The High Associates team includes LEED®-accredited (Leadership in Energy and Environmental Design) and Green Advantage® program-certified professionals. This expertise allows the company to assist clients in creating energy-efficient and environmentally friendly projects. The company has embraced new operating and construction standards that include progressive, environmentally friendly specifications, such as those at the newly renovated Greenfield Estates apartment and townhome community. Examples include ENERGY STAR-rated appliances, energy-efficient lighting, motion sensors on lighting & plumbing fixtures, low-VOC paints/sealants/adhesives, and carpeting made from recycled materials. In fact, PPL Electric Utilities named High Associates to their Energy-Smart Business Honor Roll for significantly reducing energy consumption at its facilities. High Associates' Greenfield Corporate Center is the first property of its kind in Lancaster County, Pa., that is home to a riparian buffer. This naturalized landscape feature helps filter runoff, contributing to improved health of the Chesapeake Bay watershed. Rather than employ a typical demolition approach, High Associates elected to deconstruct a functionally obsolete former hotel property at its Greenfield Corporate Center that resulted in more than 93 percent of the building's materials to be reused or recycled, including donation to local causes including Habitat for Humanity. "We are proud to be working with smaller enterprises nationwide that are dedicated to triple-bottom-line sustainability," said Chris Carmody, Executive Director of the Institute for Sustainable Development. "These organizations are pushing the boundaries of small business sustainability in their respective communities and are realizing positive economic and employee change through their efforts," Carmody said.

About the Institute for Sustainable Development

The Institute for Sustainable Development is a North Carolina Research Triangle non-profit initiative of universities and chambers of commerce to help small businesses and their communities benefit from sustainable practices and to foster a new generation of sustainability leaders. The Institute's North Carolina university partners include Duke University's Nicholas School of the Environment, Durham Technical Community College, Elon University's Martha and Spencer Love School of Business, North Carolina State University and the University of North Carolina at Chapel Hill. The Institute partners with the American Chamber of Commerce Executives, a 1,400 chamber of commerce network with 1.3 million business members, to offer Green Plus™ nationwide, and with seventeen regional chambers of commerce to provide sustainable business education in twelve states. It also runs a national Green Plus™ Sustainability Fellows program, training students from graduate schools around the country to help smaller enterprises understand and benefit from the triple bottom line. For more information, visit www.gogreenplus.org.

For more information, about High Associates Ltd. visit www.highassociates.com.